Home

⇒
📌Renoir Auguste

⇒
Description of the painting by Pierre Auguste Renoir "Girl in a straw hat"
Description of the painting by Pierre Auguste Renoir "Girl in a straw hat"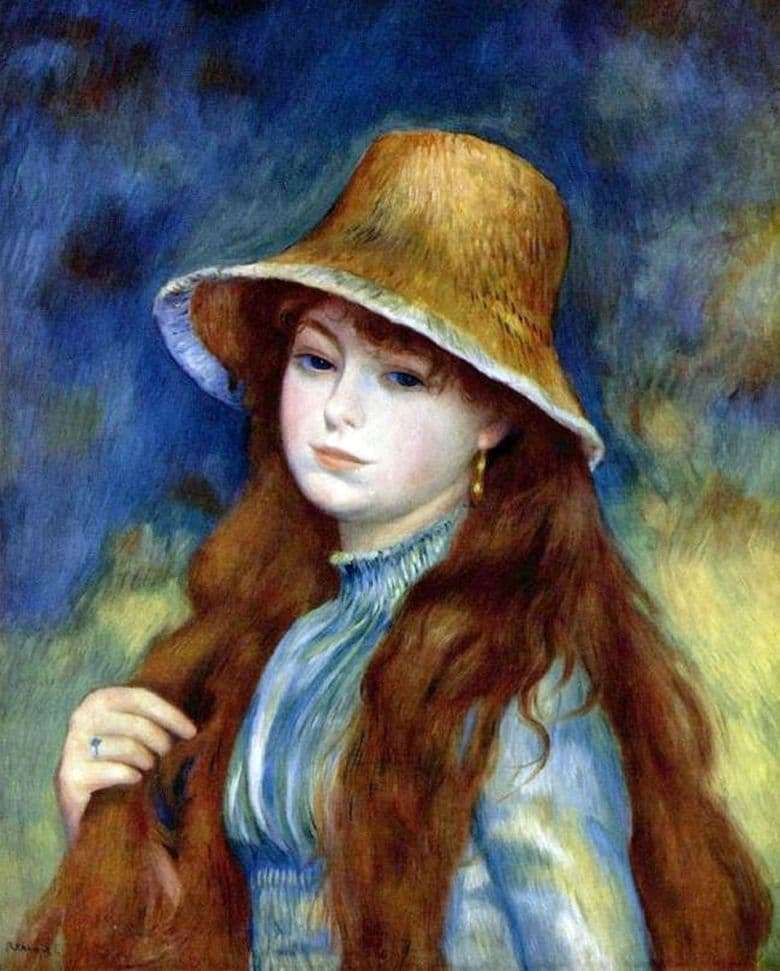 In the center of the picture is a beautiful young girl, attracting all the attention to herself. The background of the work consists of expressive blue strokes with red patches, but the blue palette changes its color toward green in a downward direction. This pushes the idea that the main character is outdoors, not in the building. Blurred background allows you to focus on the beautiful young individuals, looking forward to their eyes.
A special feature of the heroine is the riveting redheads that draw attention to themselves, almost red hair coming down. Red curls frame the upper part of the face, and a straw hat is put on the head. So, hair and a hat take on most of the attention. The texture of the headdress is perfectly transferred, the volume of the subject is given by the dark strokes present in the fold line of the hat. White edges of a dress give it greater elegance and extraordinary.
The neat right hand of the heroine touches her hair, while on the ring finger there is a small ring with a blue stone. A representative of the upper class would probably have more jewelry, which makes you think that the girl belongs to the middle class.
Gorgeous red hair, catching the eye looking at the picture of a man, further emphasizes the fantastic whiteness of the skin. At the same time, the face is not too pale, as there is a slight blush on the cheeks, emphasizing the youth of a beautiful girl. The eyes of the main character express complete calmness, the girl's right eyebrow is playfully raised, and her pale pink lips smoothly curved in a slight smile. It excites and delights, it makes the beholder try to feel what the girl thinks and feels.





(
2
votes, average:
4.50
out of 5)
Description of the painting by Pierre Auguste Renoir "Girl in a straw hat"