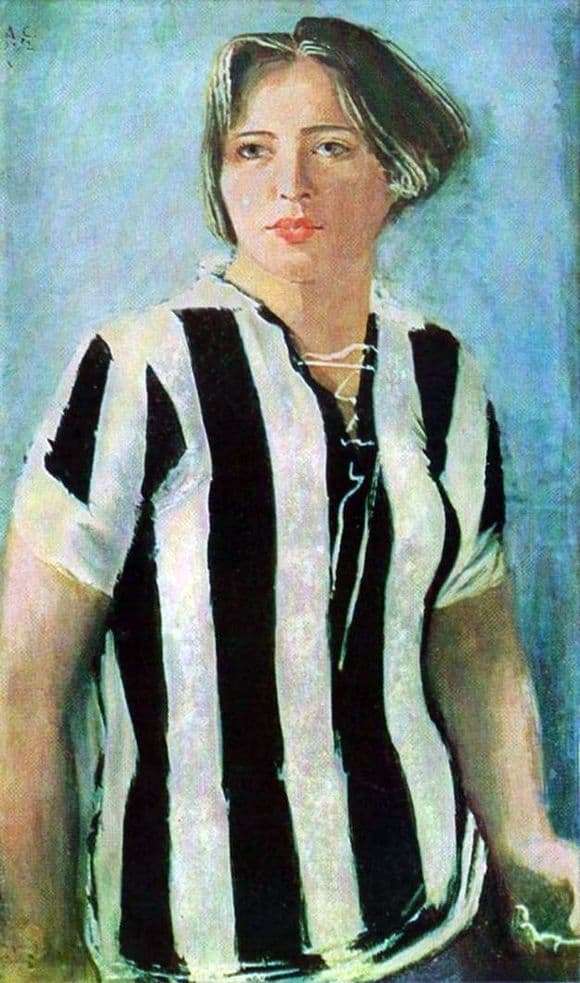 Samokhvalov, a famous artist of the Soviet period, created many outstanding works. One of the most famous paintings in his collection was the Girl in a T-shirt. The canvas of 1932 received rave reviews from critics. Until now, this striking work of skill and design from the past era has attracted viewers.
On the canvas, a close-up depicts the figure and face of a girl – Yevgenia Adamova. The author chose the young wife of one party worker as an excellent example of an advanced Soviet man. It is known that the girl was a school teacher. But looking at the portrait, you can learn a lot more about this person.
T-shirt on the body acts as a symbol of modernity. T-shirt in black and white longitudinal strip seems inexpensive, concise. More attracted by the rapid reversal of the body of the model, the expression of her bright face. Blue eyes look confident, unshakable, ready for decisive action. Facial features typically Russian, harmonious, calm. Slightly pulled back short-haired hair gives the portrait additional dynamism.
Samokhvalov sought to capture the perfect female image of a bold, open-minded, ready to work and heroism of the Komsomol. As a result, a portrait came out with a strikingly beautiful combination of lyricism and heroism.
"Girl in T-shirt" became a symbol of the USSR. They even called her "Soviet Jockonde" – the picture became so popular. Now this canvas reminds of the past, of its best side. It gives a positive charge of mood.
In this picture, hope and spiritual strength, purity of moral character and imperturbable determination, honor and courage. The technique of writing work is bold in scope and monumentality. The best features of the Soviet man are reflected in the portrait of a sporting girl in his prime.