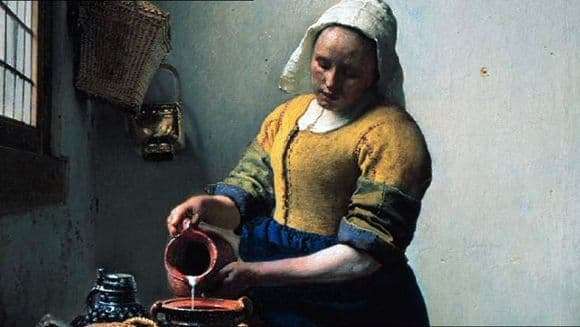 Painting by Jan Vermeer "The Milkmaid" cannot leave indifferent a fine connoisseur of art. On the one hand – this is the usual captured scene from real life. The girl pours milk in a bowl. It would seem that in this such. But the way the artist presented it on the canvas is another matter. Bright colors that are present on almost every element of a woman's clothes make her look at her. Also worth noting is the fact that each item is marked by the artist.
The clear contours of every detail on them, every spot on the wall allow a better study of the situation around the thrush. The curves of her body are perfectly traced, and also the artist has taken the woman's mimicry of considerable significance. It can be seen as she carefully pours the liquid from the jug into the bowl. If not her headgear, then one would assume that she is trying for her household. But the handkerchief scarf speaks volumes. Also her social status is emphasized by rolled up sleeves and an apron. Baking is also on the table. Various shaped buns and bagels lie on a tray, which, in all likelihood, will soon be served on the table. Near the basket is a loaf of rye bread.
Also on the table there is a jug of interesting work. In contrast to the clay that the thrush holds in his hand, this one is rich in patterns and has a special cover. What is in it – you can only guess. But uncertainty gives different guesses. Maybe it's just butter, and maybe jam, which will be served along with buns. On the floor we see a brown square object. Judging by the presence of holes on its top, this is a miniature stove of those times. By itself, the question arises – is it possible that such a crumb can warm a whole room. Naturally not.