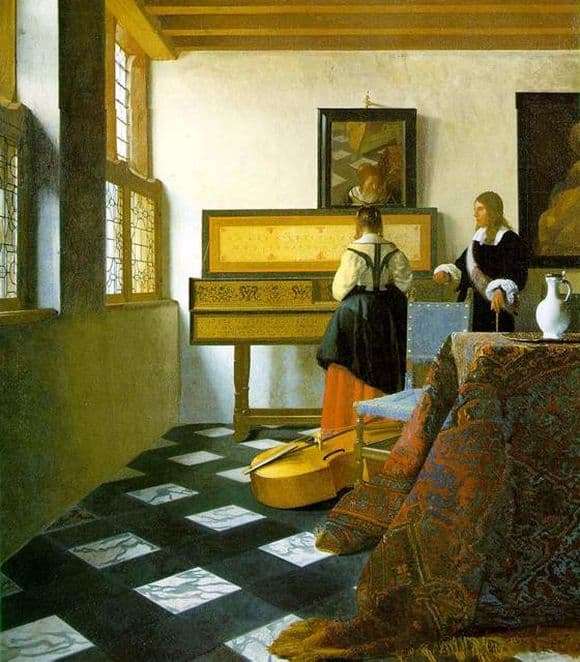 The painting "Music Lesson" belongs to the brush of the Dutch artist. The canvas is written between 1662 and 1665 year. When it was created was used canvas and oil. Since 1696, the painting was part of the Royal Collection of Great Britain. As a result of the error when decrypting the signature, the right of authorship was attributed to Franz van Mieris the Elder.
The present author of the picture was installed only in 1866. All actions on the canvas take place in a large room dimly illuminated through the mosaic stained glass windows. The centerpiece of the picture is a piano, behind which a girl stands with her back to the viewer. Next to her is an elderly teacher who is ready to cheer on a student at any moment and give practical advice. A huge mirror rests on the piano, reflecting the face and part of the girl's torso. On the right side of the piano, behind the teacher's back is a big picture. The plot depicted on it remains unknown to the viewer. At the feet of the girl one can see a stringed musical instrument – the double bass, or domra.
The foreground of the picture takes a large table covered with a heavy tablecloth, the ends of which go down to the floor. The only item on the table is a white jug. He, apparently, is a source of light, because it stands out on the canvas more than anything. Particular attention is paid to the artist clothing characters. The teacher is dressed in a strict black suit with white cuffs. Judging by the slinging band and the cane on which the man relies, he belongs to the upper class. Most likely, the girl on the canvas is his niece or daughter. The girl is dressed in a long dress, according to the customs of that time, consisting of several skirts. The upper skirt is black, the lower one is red. The top of the dress is white. The girl also does not belong to the lower class, but rather she is a student of the guesthouse. Despite the presence of windows, white walls and some kind of play of light created with the help of a jug and a mirror, the whole picture is rather gloomy.