Home

⇒
📌Rembrandt

⇒
Description of the painting by Rembrandt Harmens Van Rijn "Portrait of Rembrandt's mother sitting at the table"
Description of the painting by Rembrandt Harmens Van Rijn "Portrait of Rembrandt's mother sitting at the table"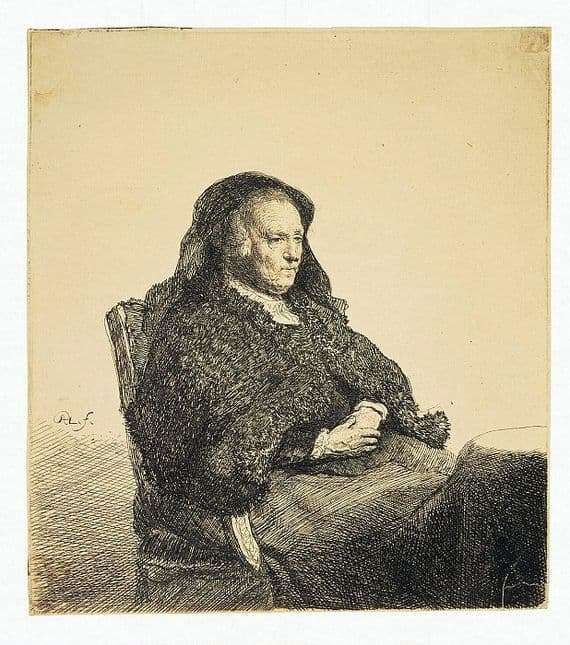 Rembrandt is a Dutch painter, a representative of the golden age and one of the best masters. He was known during his lifetime, he had many students, among whom there are famous and talented artists, he preferred historical scenes and portraits.
He loved to draw people, devoted almost all his work to this, not chanting, but showing them as they are, not despising for insignificance, not trying to subordinate the world to him, but simply showing, presenting the viewer to think and judge for himself.
Especially famous are his paintings depicting old people – he did not embellish them, showing them in full – with wrinkles, with curved arthritis in his hands, with watery eyes, not scaring and not scaring old age, but through a man telling about his life.
"Portrait of Rembrandt's mother, sitting at the table" – one of his portraits, depicting his mother, already an old woman. Her
face is covered with wrinkles, gray hair is tucked under a handkerchief, her hands are clasped in her lap. She is sitting on a chair with a high back, at the table, slightly leaning back.
She is wearing a simple jacket, a soft shawl, a long skirt, she looks away, with a little thoughtfulness. She is already at that age when you can no longer hurry, when you can just sit and think. The picture has almost no background, only an old woman, a chair and the edge of the table.
And nothing more is needed – the whole picture is focused on the mother, with love she shows every dash, every fold. She does not look tired, does not look ugly, she is discharged with tenderness and love, implicit and warm, hiding behind clear lines, even shadows and skill.
A woman is sitting, looking nowhere, there is no smile on her lips, as if she is waiting for someone who will come to her very soon. This is waiting in her pose, in her stillness.
But there is no grief behind him – because what should happen will happen.





(
2
votes, average:
2.50
out of 5)
Description of the painting by Rembrandt Harmens Van Rijn "Portrait of Rembrandt's mother sitting at the table"