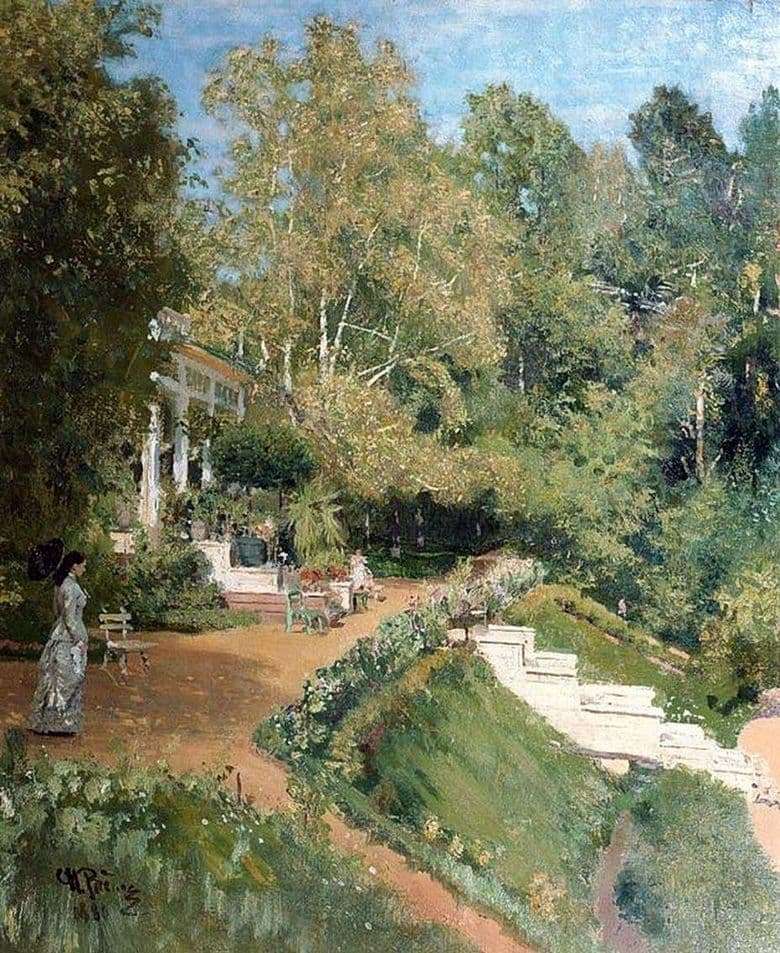 Ivan Repin for a long time, often visited S. Mamontov and him in their estate near Moscow – in Abramtsevo.
This six-year Abramtsevo period stands out from the total number of his works in other years of life. Pictures related to Abramtsevo. Very idyllic landscapes, incredibly enlightened. Repin wrote little landscapes – was too active to slowly penetrate the depths of nature's nature. But
Abramtsevo awakened in his soul a poet-lyric for a short time.
The summer landscape in Abramtsevo is like a verse – so light, harmonious, light, penetrated right through the sun. Some kind of contemplative languor is spread throughout the picture. The poetry of nature, like a summer melody at that time, amazes with the clarity of the smallest details, which were carefully written out, like a letter to a letter, but in general it turned into a poem.
In the middle of the left part of the picture in the shade of tall trees on the path is the artist's wife, Vera Alekseevna. She looks somewhere down from the elevated terrace, stretching to the house, immersed in the thick green of the country park.
The porch of the house through the path smoothly passes into a cascading staircase running down from the terrace to the next path below. A summer bench in the shade, a comfortable summer chair closer to the porch of the house – everything here is convenient for a summer holiday.
The blue sky, as if faded from the summer heat, with light, weightless toy clouds is limitless. Overgrown park attracts and invites you to walk in its thick shadow. Paints of a languid summer are literally spread throughout the canvas of the painting. The bright whiteness of the house, the porch, the cascading staircase, the terracotta color of the paths on the terraces, the fresh green of trees, bushes, flowers, the light silver dress of the young woman – all together create a surprisingly harmonious chord of a hot summer with its relaxing bliss. The landscape invites to a quiet, unhurried, even lazy rest.
Cottage is surrounded by tall, mighty birch. They have become a kind of framing of the landscape, at the same time they seem to protect this cozy, quiet corner from the outside noisy world. But here lazy contemplative peace reigns.