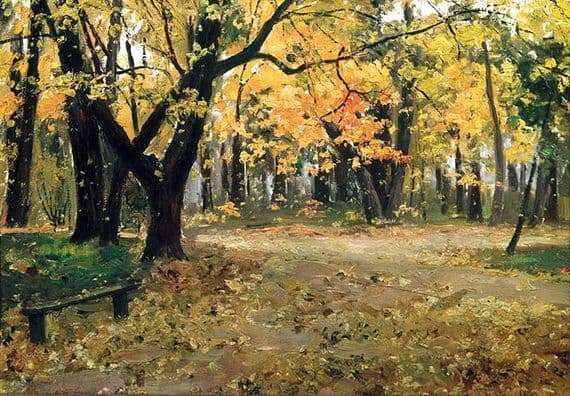 On the famous canvas "In the Abramtsevo Park," the artist Ostroukhov depicted young forest thickets. Our gaze reveals a real idyll: the splendor of golden leaves, autumn trees resembling maples, leafy park paths, as well as ordinary benches made of wood – all the beauty of the autumn landscape.
Ilya Semyonovich admired the beauty of the autumn forest, which warmed the warm yellow and gold foliage. By writing this picture the artist was prompted by the "miraculous" beauty of the steam alley. With the help of paints, the painter conveyed it quite discreetly, but very expressively and vividly.
In this work, the artist once again turned to his main theme – the beauty of the Russian landscape. After all, in this genre Ostroukhov very skillfully and delicately portrayed rich images of the nature of his native land. The master of the brush, like Levitan, painted landscapes that create mood.
The pearl of art – the painting "Abramtsevo Park" – is devoted both to the golden autumn, about which he wrote too much, and to the Abramtsev estate-museum, which is located on a 50-hectare area, in which many famous artists created their masterpieces. Many of them not only wrote paintings, but also collected household items from peasants in order to decorate the so-called Abramtsevo Museum in the estate.
Abramtsevo and the artist Ostroukhov did not leave indifferent. Before us is the corner of Abramtsevo Park in the golden tinge of autumn, the trees breathe flame, which the artist very beautifully depicted. In the wind the leaves are slightly spinning, they cover the paths of the park with a crimson carpet. Between the trees one can still see green grass, and the maples still burn their foliage on the blackening branches.
To the naked eye, you can see how Ostroukhov admires their beauty, how he is in love with the autumn landscape. Clear sunlight penetrates the treetops, the whole park is warmed by it, and the weather is good around, at such a charming time of the year.