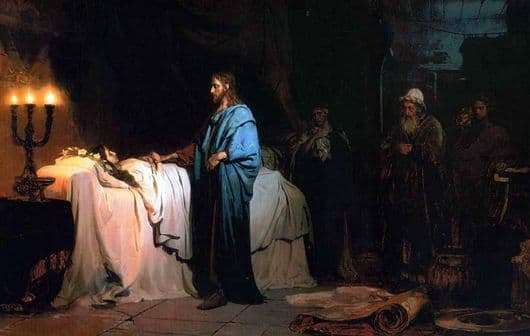 The picture was painted by the artist in 1871. This canvas is the first of the large-scale works of young Repin. This interpretation of the plot of the Gospel. We see a situation where Jesus Christ comes to the house where the girl died. The artist masterfully conveyed an unusual surprise and fright of the parents. They still hope for a miracle.
The scene depicted is transmitted in such a way that there is a sense of the importance and significance of the event. Repin for a long time did not want to take up this story. He assumed that this topic was alien to him. And only when he remembered his sister, was able to penetrate this topic and present her as a truly real situation in life. On the right and in the depths everything is deliberately darkened, which transmits extraordinary silence and evokes a feeling of anxious waiting. Relatives of the girl are depicted in the shadows, as they are minor characters. The girl and come Jesus Christ with incredible expressiveness highlighted in the light. This technique correctly places accents, and also directs our view of the main place in the picture.
Christ is very natural, his face is calm and wise in his own greatness. His hands are completely ordinary, like a common man. Gestures are incredibly simple, but really filled with solemnity. The girl seems to be asleep, not dead. Here the viewer again comes into contact with such a favorite theme for Repin, as the theme of awakening. In many creations we see sleeping ones.
Also incredibly significant in the picture is the father. Repin's psychologism is most fully reflected in it. Also felt the beauty and sorrow of old age. All colors are incredibly restrained and at the same time as harmonious as possible. All this fits into that dramatic scene that has become the theme of the canvas. Repin created this picture, being under the strongest impression of Beethoven and his "Moonlight Sonatas", therefore the creation turned out to be so powerful. This canvas is called full of secrets and mysteries.