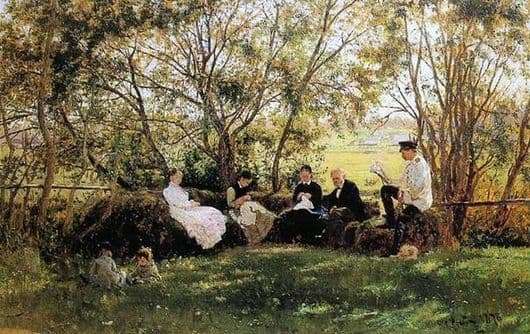 The greatness of Repin as an artist is irrefutable and does not require proof. The list of paintings by the master can be listed endlessly – it is so huge.
In 1876, a large variety of plots in the artist's personal collection was supplemented with one small, but very remarkable painting "On the Sod Bed".
At work Repin is a hot day and his large family, sheltered from the sun's rays in the shade of the trees. Interestingly, Repin did not try to correct the attitude of the heroes of the picture to posing.
It is noticeable that someone is unhappy with what is an object for the artist's brush. Someone is condescending and even ironic. But children do not take this process at all – they simply do not notice it and behave carelessly and naturally.
Bright colors that fill all the free space on the canvas, summer greens – evoke a feeling of joy, delight and tranquility.
From the side of not the average man, but the researcher, the picture not only boils with joyful notes, but also skillfully weaves several styles that Repin masterfully learned to use while studying in France. Impressionism is especially clearly seen, but skillfully processed with a special repa writing technique.
Such successful works as "On the sod bench" the master had a lot. Interestingly, Repin himself did not attach much importance to this kind of canvases, considering that there was no way for him to develop as a great artist.
Rather, it was entertainment, recreation, and not the work itself. Critics of the time did not quite agree with the artist. His peripheral work was valued no less than the masterpiece canvases of the great Russian artist of all times.
Much later, when Repin died, Benoit wrote about him not only as an inimitable artist, a master, but also how, about a man of great soul, to whom he is grateful.