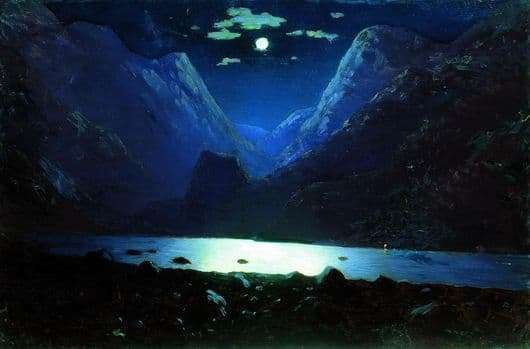 Kuindzhi was able to return to the landscape the unusual beauty and sense of the magnificence of the world. Peredvizhniki sought to explore everything, and the artist wanted to enjoy what is. But he could not avoid interpretation at all. He interpreted nature as part of the forces of the cosmos, which can carry beauty.
Kuindzhi was constantly looking for an image of the world in reality. He also searched for him when he looked at the majestic mountains of the Caucasus. On his canvas, they are illuminated by a mysterious moon. It seems that this lighting is some kind of special, absolutely unearthly.
Kuindzhi uses intense color, which allows mountain peaks and rivers to glow as if they are written in phosphorescent tones. We see a mysterious country that is capable of evoking visions full of romanticism and the same wonderful dreams.
The artist first went to the Caucasus in 1888. Here he met with an amazing phenomenon, which became a good omen of the extraordinary beauty of landscapes. Kuindzhi saw a very interesting phenomenon – his figure was enlarged on the surface of the cloud.
The mountains are depicted with the greatest pathos. They are absolutely inaccessible, but attract people to themselves. An irresistible desire arises to know something mysterious. This is what becomes a symbol of the world, which is very beautiful, but completely unattainable.
On the one hand, the Kuindzhi Mountains are as realistic as possible, but at the same time, the artist is particularly fascinated by the contemplation of the world. In the universe merge the earth and planetary. They become one. The human soul is filled with the greatness of the world with a special sound. There is a cleansing of the earth by the eternal. Because of this, it becomes truly special and incredibly identical.
The paints themselves, used by the artist, are rather gloomy. But it is they who give the whole canvas a special sound of genuine splendor.