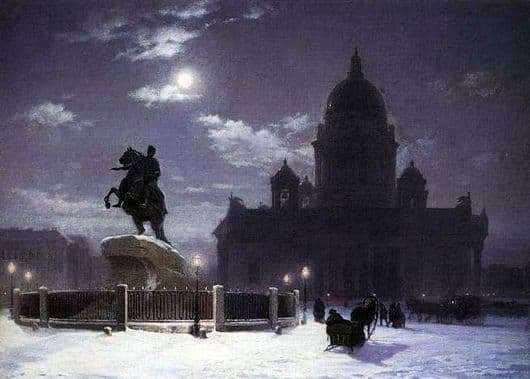 The first completed work of the artist Vasily Surikov was the winter landscape "View of the monument to Peter I on the Senate Square in St. Petersburg," curious is the fact that the artist wrote two such paintings that mislead many viewers.
There are several reasons for creating a second similar work: first, the artist was not very pleased, even in a letter to his relatives, he admits that the picture did not come out bad, but it was possible to write much better.
Secondly, at the exhibition in 1970, Surikov saw the painting A. I. Kuindzhi "View of St. Isaac's Cathedral under moonlight illumination", this picture is similar to the work of Surikov, but with the difference that the picture is more attractive play of colors, in the second version, the picture of Surikov thanks to brighter colors, even more similar to the work Kuindzhi.
Vladimir Kemenov, who investigated Surikov's works, compared both versions of the painting and noticed that the landscape itself remained the same, only small details changed (density of shadows, evenness of tracks from a cart, accentuated by cold), which the art historian or an experienced artist notes.
Interesting is the version that the picture is incredibly similar to the work of Vorobyov "St. Isaac's Cathedral, a monument to Peter the Great," which was written 26 years earlier. Surikov in his picture changed only the time of year and angle. Whether Surikov saw the picture of his colleague, or is it just an incredible coincidence, no one can say that only the year when she was shown in Russia was known about Vorobyov's painting, it happened in 1908, and the artist himself died 15 years before writing a picture similar to his.
Whatever it was, "View of the monument to Peter I on the Senate Square in St. Petersburg" will forever remain the author's work of Surikov, despite all speculations and assumptions of historians and art historians, because there is no direct evidence of plagiarism.