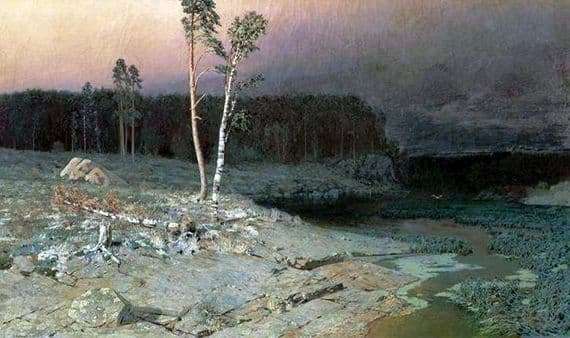 The picture was painted in 1873 in oil on canvas. This canvas is included in the collection of the State Tretyakov Gallery.
Kuindzhi is a great Russian artist whose works have become the cultural heritage of our country. They are known worldwide and can compete with the paintings of the most famous artists.
Balaam Island is located on Lake Ladoga. Kuindzhi often visited these places. The artist has always been attracted by the nature of the northern areas. She is Manila with her beauty, magic, and unbridledness. The great Russian artists created many masterpieces of world art in the northern lands.
The canvas "On the Island of Valaam" was created by Kuinji, when the artist made a second summer trip to the island. This is one of the pictures of the trilogy, which is devoted to the beauty of the north.
The plot of the canvas is written on the river bank. Birch and pine stand on a hillock; they sprouted through granite, which cracked under the influence of time. In the background we see a dense northern forest. Our country is rich in such beauty. The coast of the island is wild. He awaits the coming storm. Thunderstorm, heavy clouds hung over this untouched oasis of northern land. They are getting blacker and absorbing a crimson sunset. Beauty, the depth of the picture is amazing.
The genius of the artist's brush is invaluable. Kuindzhi was compared to Monet for his attitude with colors and originality, which are not peculiar to anyone else. Kuindzhi for his work not once received awards, all aspiring artists dreamed of learning from him.
This canvas made a stir among the creative world of that time. Everyone talked about the work of Kuinji, and everyone liked it incredibly. Many words and poems are said on the plot of the canvas "On the Island of Valaam." Pavel Tretyakov bought it first. The cycle includes two more paintings: "Lake Ladoga" and "North", which are also included in the collection of the Tretyakov Gallery.