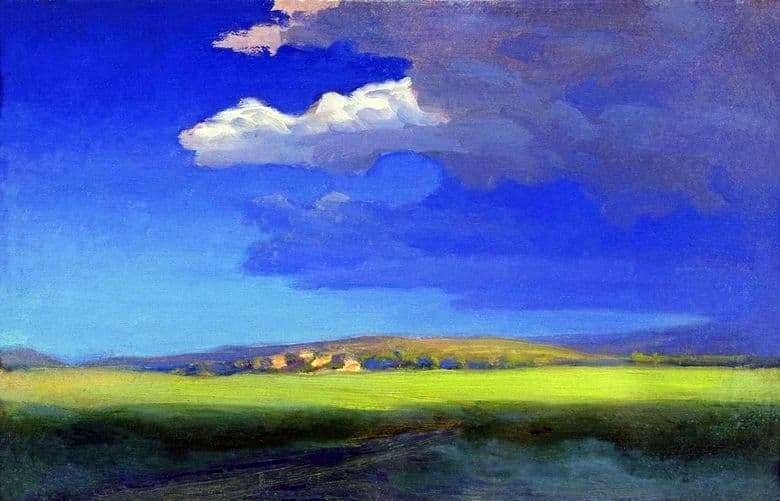 The painting "After a Thunderstorm" was painted by Arkhip Kuindzhi in 1879. Now the canvas is in the Sumy Regional State Museum, not far from the artist's small homeland.
Looking at the wonderful impressionist landscape, one wants to breathe in fresh air after the storm. The landscape is filled with freshness. The clouds that spilled during a thunderstorm recede, revealing the light blue sky. In the foreground there is still a noticeable smoke, but the grass, covered with dew, is already "burning" with bright greens.
The fields and the hill in the long run already touches the first post-light ray. The canvas is painted in bright colors, there is a lot of free space on it, which opens to the viewer, dragging him onto a wide yellow-green meadow.
Arkhip Kuindzhi entered the history of painting as an unsurpassed master of painting on canvas of light and air. He did not use classical impressionistic techniques, having developed his own unique style. His landscapes allow you to feel the atmosphere of changing weather.
And the artist was especially inspired by the views of nature after rain, thunderstorms ("After rain", "Rainbow", etc.). It is interesting that during 1879 Kuindzhi painted two pictures with the same name "After a Thunderstorm", completely different in mood and color rendition.
N. K. Roerich recalled: "Once we talked with Arkhip about aviation. He said: "Well, of course fly, but first learn to walk on the ground." And he knew how to walk the earth. "
Arkhip Kuindzhi was very keen on observing; he had a unique talent to notice even the most insignificant changes in nature. It was this weather change that was captured on the "After the Thunderstorm" canvas.