Home

⇒
📌Rembrandt

⇒
Description of the painting by Rembrandt "The Jewish Bride"
Description of the painting by Rembrandt "The Jewish Bride"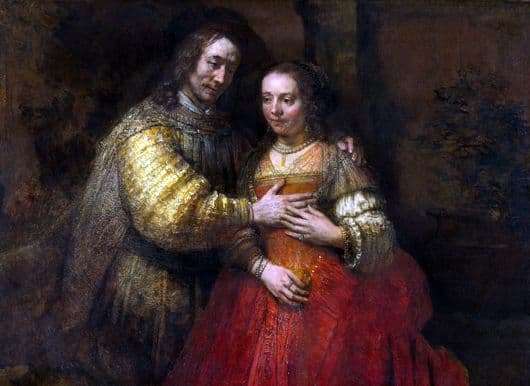 "The Jewish Bride" is a canvas that belongs to the famous Baroque era. This canvas is one of the most recent and mysterious artist Rembrandt. He wrote not only in the standard style, but sometimes he was the creator, the poet that he composes. That is exactly what the master showed himself in this work of art. The name of the painting was created in 1825 by Van der Noor – Amsterdam collector. He mistakenly believed that the canvas depicts a father who gives his daughter a beautiful necklace in honor of the wedding.
They say about Rembrandt that he is a great creator, and in order to become like him, he must die several times! The picture is a masterpiece of the Rembrandt period, which is characterized by golden, brown and red shades. Without a doubt, it is decided that this is a portrait, but who is on it? Miguel de Barrios and his wife or maybe Master Lutma with his wife? The picture is a portrait of a couple,
Isaac and Rebekah. They settled in Philistines. Through a strong fear stood out like siblings. But after a while, the king saw them and understood everything. After that, provided them with their own protection.
The composition of this picture was created from the seated Rebekah – the bride, who spreads her leg over the thigh of her husband. It speaks of the game of love and great pleasure from it. The canvas is depicted in an unusual form. A man embraces his woman and puts his hand on his chest, she supports the gesture of a man, this is noticeable by the touch of his hand. It is with this touch that we can feel the intimacy of the artist's masterpiece. The painting "The Jewish Bride" is the final and best point in the development of Rembrandt and in his attempt to unite the universal and something special.
Paying attention to the light, color and depth of the composition, we can say that the gesture of a woman is the main element of the picture and hardly any artist could do it. After the "Creation of Adam" written by Michelangelo, this is the most quoted gesture in the history of painting.





(
2
votes, average:
4.00
out of 5)
Description of the painting by Rembrandt "The Jewish Bride"