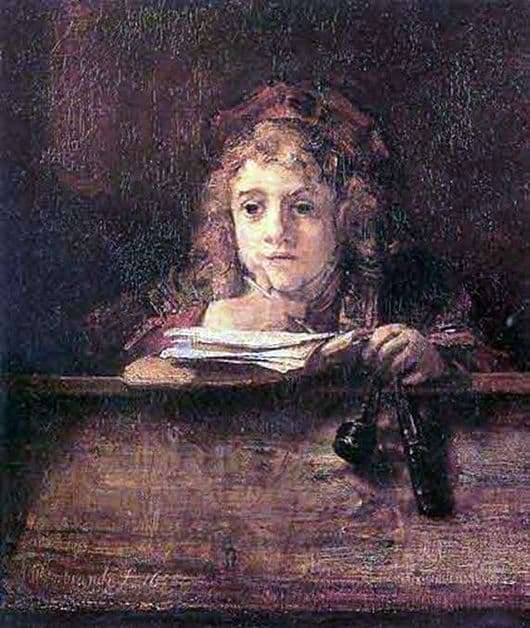 The picture was painted in 1655 in oil on canvas.
Rembrandt became a great master of portrait and historical genre. In addition to portraits of different people, the artist painted several paintings dedicated to his son in different years of his life.
Titus was the fourth child in the family of Rembrandt, but the first three children died in infancy. A year after the birth of Titus, Rembrandt Saskia's wife also died. What could not affect the life of the artist. Therefore, you can see with what precision and love Rembrandt portrayed his beloved son.
He painted Titus quite a boy and an adult guy. But his son managed to live only 27 years. Shortly after the death of Titus, his wife gave birth to a daughter, who was named after his father. For the artist – this is an irreparable loss. Portraits of his son are in various museums of the world.
On the canvas, Titus is depicted sitting at a table with sheets of paper. In his left hand he has a pen case and an inkwell, in the right he has a feather himself. The boy looks into the distance with pensive eyes. Titus, like his father, could draw beautifully. He often depicted landscapes. Perhaps on the canvas the boy argues in his dreams about the plot of the future picture or he just wants to write something. Titus is sitting at a high desk, in the left corner you can see the artist's signature.
Rembrandt picked up the calm colors for his picture. As a masterful artist, he was able to convey the mimicry of a pensive boy. Rembrandt focused on the light flow on his son's face and arms. Viewers can see the boy's pretty features, his big eyes. The manner of applying paints is fairly free, especially in the foreground of the desk. The artist paints all the portraits of his son in the same color range.
Portraits of Rembrandt became a historical treasure. The painting is in storage at the Museum of Boymans Van Beningen. Amsterdam.