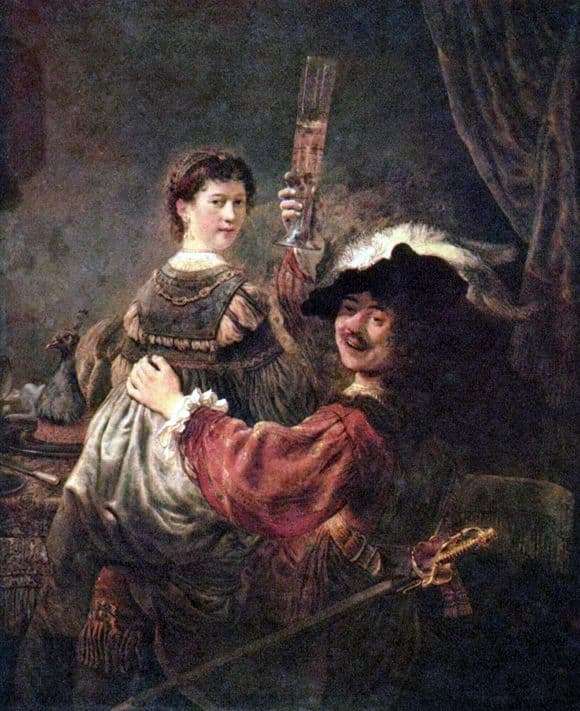 On this canvas, Rembrandt portrayed the hero as a merry gentleman who knows a lot about the joys of life and will be able to enjoy them. Confirmation of this to become objects in the room. But the main evidence in favor of the connoisseur of life, undoubtedly, is the beauty in the hands of the artist.
The picture conveys the moment from the feast. The festive table is richly decorated and full of extravagant dishes. The peacock cake is clearly visible, which became the decoration and the center of the holiday table. The gentleman, holding a raised glass in his hands, testifies that the feasting people are turning to the audience. During the feast, they sat with his back, but now turned to pay respect and drink for their health and well-being.
The interpretation of the picture has always been twofold. It is precisely known that the author of the canvas is Rembrandt. Also, there is no doubt the value of the painting for its author, because the artist kept his masterpiece at home. He always refused to numerous requests to sell him.
There are versions that the picture depicts spouses who arrange a masquerade. It was a way not only to have fun, but also to show its worth. Moreover, dressing-up was then in fashion and was widely used at court. This is what gave rise to calling the picture a self-portrait.
Following another version, the canvas depicts the prodigal son. He, having received money thanks to his parents, is now enjoying life with might and main, wasting his fortune on entertainment. Then it becomes harder for the viewer to guess how the story ends, which unfolds before his eyes. A young man is waiting for either a collapse or a miraculous transformation into a mature and thoughtful man.
The future of the characters, however, cannot darken their gaiety, leaving the tone of the picture cheerful, instilling in the soul of the audience faith in life and the future. Which once again underlines the genius of the artist, able to bring to life and action, and feeling.