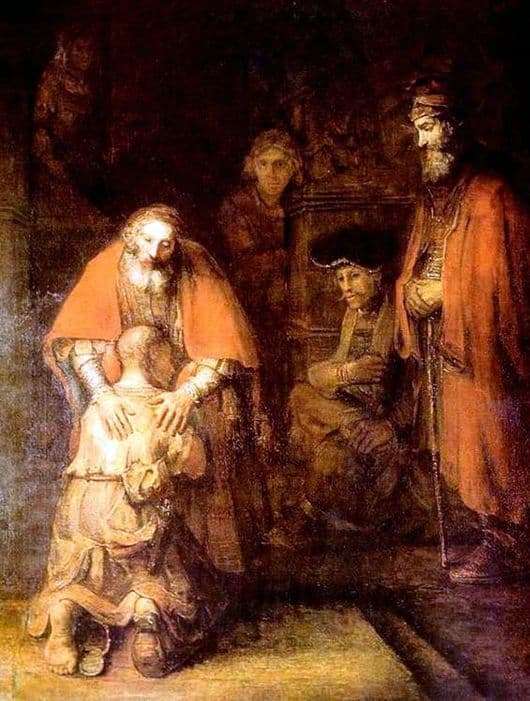 Created in 1668-69 by the great artist Rembrandt Harmens van Rijn, The Return of the Prodigal Son, is based on the Biblical story of the Prodigal Son from the Gospel of Luke and is the embodiment of the spiritual and carnal, divine, heavenly and earthly principles.
This canvas was the result of doubts and painful feelings and experiences of a mature author. He mourns the lost youth and regrets the inability to change the current days. Many art critics and theologians interpreted the image in the picture from the point of view of the embodiment of earthly passions and divine fundamental principles.
Some researchers believe that in the picture the artist depicted himself in different guises, at different stages of spiritual rebirth. On the one hand, the master represents himself as a prodigal son who repents of his own sins before his earthly father and God, who is depicted as an old man. On the other hand, it is the eldest son, in which conscience is embodied. Here is the youngest son as a symbol of reproach for the sins of youth. The old father takes the prodigal son, despite his mistakes and failures in life, he forgives him and pities.
But it is worth noting that the artist was not too pious man. He rather thought on earthly things and possessed the psychology of a simple person who has earthly passions, fears and experiences. Therefore, it can be said that the "Return of the Prodigal Son" is an illustration of how in one person at the end of his life there is a union of the inner, spiritual and external, subject to the passions of the world.
In this case, the tax collector (the prodigal son) contains the embodiment of the sphere of "devilish passions", that is, the youth of the artist. The eldest son is conscience and morality, based on divine and social foundations.
Rembrandt's inner self is seen in the center of the picture. He seems to be watching what is happening around him. At the same time, he looks not only at the characters of the picture, but also at the viewer, drawing him into his world of experiences.