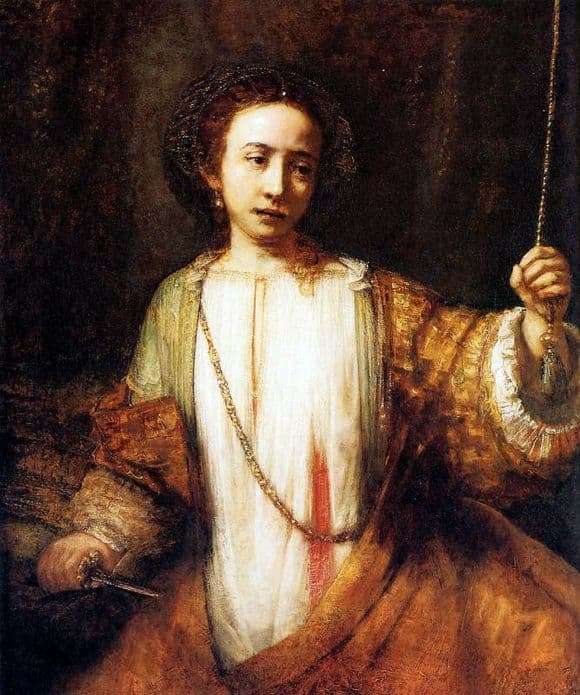 Rembrandt used Lucretia's classic suicide plot. She decides to settle accounts with life, as she was dishonored by the son of the Emperor of Rome. The artist created two paintings. At the earlier stage, we see a heroine who is just preparing to hit herself with a fatal blow. In her hands a knife.
On a later canvas, the wound has already been inflicted. This can be understood by the spreading spot of blood, which can be seen on a shirt made of thin fabric. Lucretia can still keep straight, but very soon it will be beyond her power. She grabbed onto the elegant ribbon of the bell. But we can understand that the end is near, as the face has already become livid.
Rembrandt conveys his vision of a famous event. The artist masterfully writes all the details of the clothes from the luxurious material. If the painter depicted ornaments on an earlier canvas, now they are not. He decided to significantly reduce the details to give the image maximum simplicity.
The woman has a simple cut tunic. The suit is so strict that it is very much like a man's. The streams of paint form folds of white fabric. Rembrandt depicts a man who has decided to commit suicide.
Clothes and face can no longer seduce. They embody the end marked by the woman. We will not find anything simulated in her face. One can only feel how serious a decision is made by it. This greatly exacerbates all the features. To create a vertical flow tracking, the costume is reduced to the volume of the elementary type. In the face we see no pain. It is completely calm. Perfect suicide put Lucretia on the physiological laws and completely erased from society.
This painting was the latest creation of the painter on the theme of antiquity. It was there that he sought honor and morality.