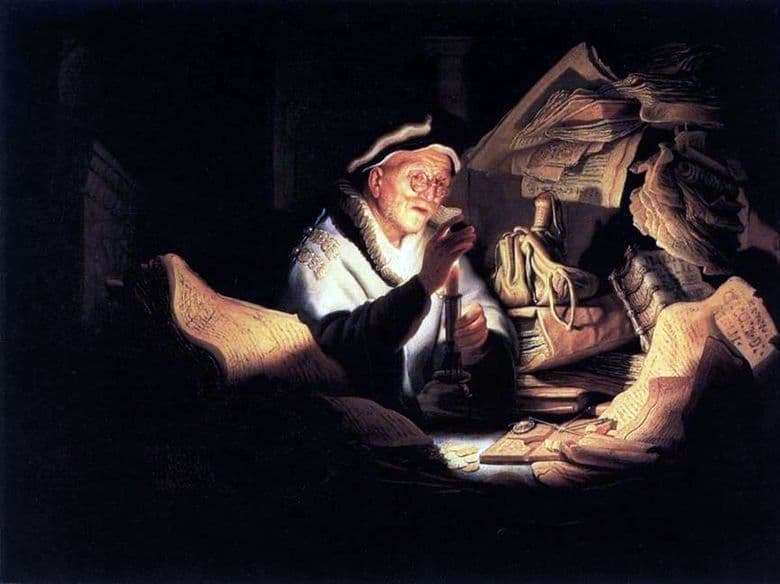 The picture is a depiction of one of the parables described in the Gospel of Luke. It deals with a wealthy man who decided to direct all his wealth towards personal comfort and happiness, and not good deeds, such as helping others and honest work for the good of the human race. The very next night after this decision, God took the life of a man, since he behaved unworthily.
The meaning of the parable lies in the need to serve humanity and criticize riotous and carefree lifestyles.
In the central part of the picture there is a rich-looking man in a dark room, examining the jewels in the weak light of a candle. The warm reddish light illuminates the rich man's face and the interior of the room: so, we can see a lot of books, coins, sacks for gold on one table.
Looking at these objects, the beholder gives the impression that this man is paying all his attention to the accumulation of property. At the bottom of the table one can see weakly consecrated coins of gold and silver, which were popular at the same time in Holland. Most of the items described in the man's environment are darkened, but this allows the viewer to continue their list, relying on his own imagination. Dressed in luxurious clothes, the main character directs a close look at the jewel, looking at it over the candlelight.
The fact that the main events of the paintings take place in the dark is not accidental. In this way, the master tries to convey the wealth of the rich man and his obsession with treasure. It seems that day by day he sits locked up in his office and leads an endless recalculation of coins, jewels, gold and silver, which he has at his disposal. Rembrandt managed to accurately convey the character and story of the character with only one scene captured on the canvas.