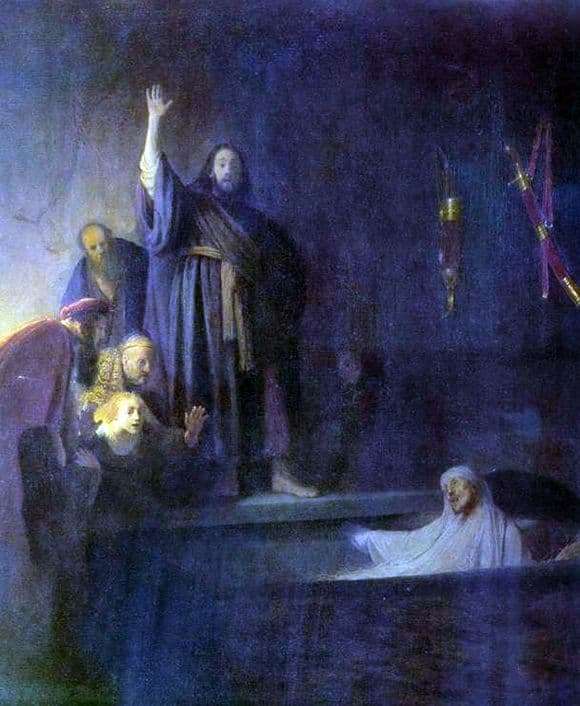 Around 1630, one of his famous masterpieces, The Resurrection of Lazarus, came out from under the brush of the unsurpassed master of painting Harmens Van Rein Rembrand. The picture was painted in oil on wood. The canvas, which Rembrandt created at the height of the Renaissance, is the pearl of world painting. At the moment it is owned by the Los Angeles County Museum of Art.
In the center of the plot is one of the biblical stories, which is of key importance in Christianity. The resurrection of Lazarus is the main miracle that Jesus revealed to the world. It is of greater importance than the healing of the sick and infirm. The event personifies not only the return to the life of Christ himself, but also the resurrection of all people after the onset of the loan day. It was after the creation of this miracle, according to the Bible, that many believed in the power and might of Christ.
The action takes place in the dark catacombs, where the body was buried. Lazarus on the canvas rises from the coffin on their own. Life has not yet returned to his body. He is weak, but not dead. Jesus is depicted young, barefoot. He is dressed in dark blue robes. His hand is raised, as if ordering Lazarus to rise and live. The people depicted around are extremely surprised by what happened. Lazarus's sister, Martha, pulls her arm forward to touch her brother. It is worth noting that the image of the cross in the picture is missing.
The canvas has a number of religious inaccuracies, conveys only the very essence of the biblical parable. However, this fact did not prevent the "Resurrection of Lazarus" from becoming one of the best paintings depicting such a great event for Christians.