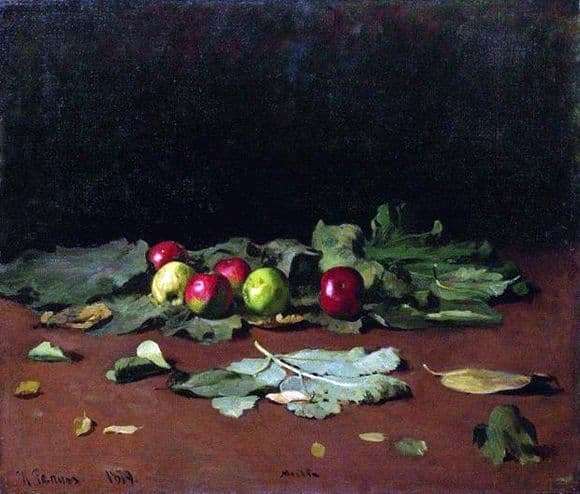 When this picture was written, Ilya Repin was at the peak of creativity, he created one masterpiece after another, had a fee, he had a wonderful family, with which he moved to the capital, here he teamed up with the most prominent artists of Russia who met him and his works complacently, exhibited with a cycle of masterfully written portraits, sold his work for good money at that time, acquired new friends in Moscow.
Of course, all these circumstances could not but affect the mood of the artist, and he created such an unusual work for himself as "Apples and Leaves".
Why unusual? Because Ilya Efimovich is a virtuoso of historical and mythological themes, portrait painting, psychological, imbued with feelings and emotions of paintings. Still life was not peculiar to this artist.
But, as you know, a talented person is talented in everything. And therefore the image of ordinary apples, reclining on the drying leaves of various plants, was inimitable to him. Small and large leaves, holistic and patterned edges, single, paired and triple – all are made in the green range, and this is a wonderful background for ripe apples. In general, speaking of the background, everything is perfect for Repin: a dark backdrop turns into a brownish surface, on which both leaves and apples look brilliant.
The latter are truly alive, it seems that you can take them and enjoy or enjoy the scent of an apple orchard. This freshest aroma is heard in a harmonious combination of leaflets and matt fruits of an apple tree. Volume, luster, shape, color, dents, spots, – all this makes the apples – as already said – alive.
So, it would seem, a simple uncomplicated still life in the hands of the master acquires brightness and expressiveness, and the picture becomes a real work of art!