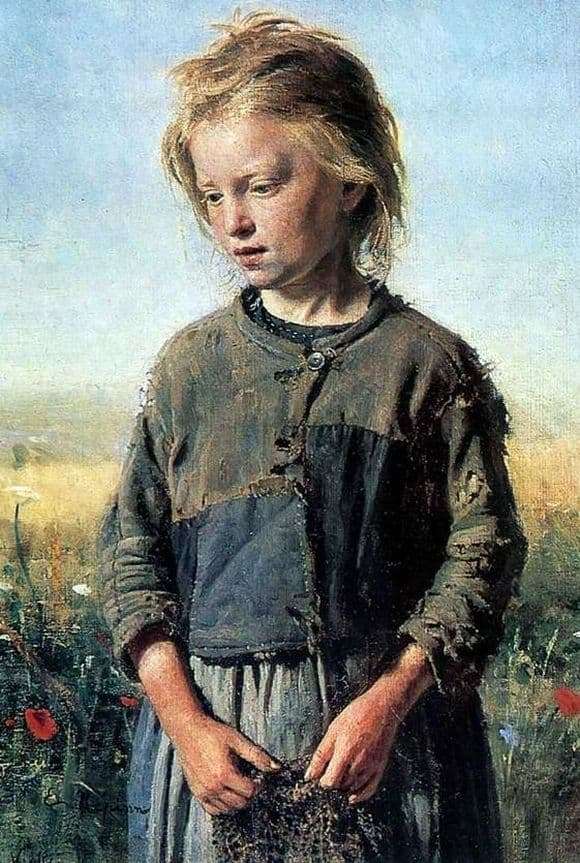 The canvas "Beggar" came out from under the brush of the artist in 1874. The picture was painted by a young Repin in Vel, in France. Cultivologists of the whole world, the painting is recognized as the best creation of the artist's youth period.
Despite the aggravated struggle of the State Tretyakov Gallery for the right to include the "Beggar" in its exposition, the painting is in the Regional Art Museum of the city of Irkutsk. On the canvas for a long time was hunting. The director of the museum in Irkutsk got a masterpiece from restorers from the Tretyakov Gallery by deception. Miraculously, he managed to escape punishment.
The canvas is written from life. Then Repin devoted a large amount of time to painting in the open air. Poor French girls often posed for various creators for a fee. Thus, they received the crumbs, allowing to somehow live. Later, in correspondence with an old friend, Ilya mentions a model. In the rows slips dissatisfaction. The girl posed out of her hands badly: she jerked and befuddled. However, the master was able to discern behind all this the subtle soul and the true state of affairs. The portrait turned out to be difficult, deep, very complete. The artist spent little time creating it, he was so burning up with the idea.
The girl is depicted with a fishing net in her hands. The drawing is very small, detailed. Tanned, with burned eyebrows and weathered skin, the girl is filled with a whole range of emotions. The colors chosen are restrained, dark. However, the choice of color does not affect the vividness of the picture. Many experts say that this particular work allowed Repin to take place as a brilliant portrait painter.