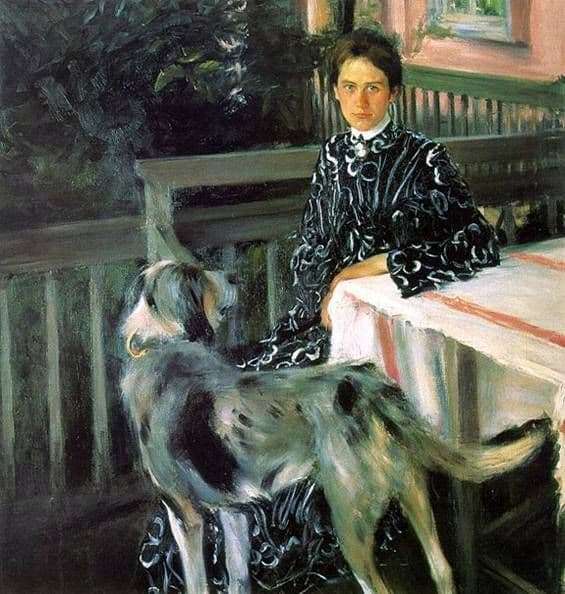 BM Kustodiyev created a new style of writing a portrait. His works are reminiscent of paintings with a full story. The eye catches not only the image of a person, but also the situation.
The artist loved to draw his family. Such a family work is the portrait of his wife Kustodiyeva. The artist depicted members of his family in different life situations. Thus, he showed love for his family and friends.
The picture shows the spouse of BM Kustodiyev in a quiet home environment. She is sitting in the garden, the part of the house and the fence can be seen. Around lush vegetation, indicating a warm summer day. The foreground shows a dog. The artist's family loved animals, the author often depicted them on his canvases.
It can be seen that the dog is tied to the owner, she looks at her and wants to be stroked. The woman is sitting relaxed. It seems that the spouse is resting in the garden on a warm summer day. She is sitting on a wooden bench at the table. The woman's gaze is so deep, her eyes exude good, and her lips spread into a faint, subtle smile. From the picture breathes comfort.
The artist is very realistic conveyed the image of his wife. Her infinite kindness and reliability. The picture shows the purity of female nature, harmony and love. The couple lived happily and one cannot help noticing the satisfaction of the woman with her family life.
With his paintings, the artist recorded the changes that occur in family life. He very accurately conveyed the changing appearance of his wife over the years. She has always been his faithful companion of life.
The last years of his life, BM Kustodiyev was in an immobilized state, his wife was his whole world. She acted as a business agent and continued to successfully manage the household. The master conveyed his warm attitude towards his wife through canvases.