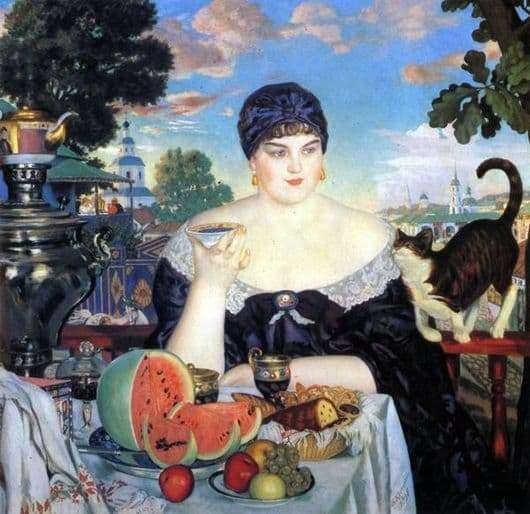 The painting "Merchant for Tea" contains all the uniqueness of the creative method of the artist Boris Mikhailovich Kustodiev. According to art historians, the very image of a merchant – a portly beautiful Russian woman with a round face and a healthy smile, is a favorite with the artist.
In the picture considered by us, the merchant depicts drinking tea at a large table from a saucer. A samovar and dishes with various dishes are on the table (the artist draws particular attention to the images of fruits, grapes, watermelon, apples). There are also many beautiful and expensive dishes and traditional Russian food on the table: pies, white bread, jam. In the background you can see scenes from the life of the old Moscow merchant: a white stone church, shopping arcades, a grove and monastic buildings.
The merchant herself is young and beautiful, she has a pleasant full face, a handkerchief covering her hair, tied with the ends forward, large golden earrings, surrounded by red lipstick. The artist neatly writes out her white neck and shoulders, as well as a nice dark blue dress with a small brooch in the form of a decoration.
There is a certain irony in this picture, the artist seems to allow the viewer to smile cruelly after seeing a full and good merchant and her feast. However, the irony here is soft, not causing any negative feelings.
It would seem that in this ordinary household sketch there is nothing mysterious, but this is not so. The image of the merchant is deeply symbolic, because the artist painted this picture in a crucial year for the history of our country in 1918, when it seemed to some that Russia was dead and would never be revived again.
A Russian merchant with an adjusted life, an abundance of food, a big cat, who bent his back in anticipation of affection, a simple measured life seemed to the author as the image of the future of the country, which, having gone through all its troubles, would return to the traditional order of being.