Description of the painting by Boris Kustodiev "Epiphany" (1921)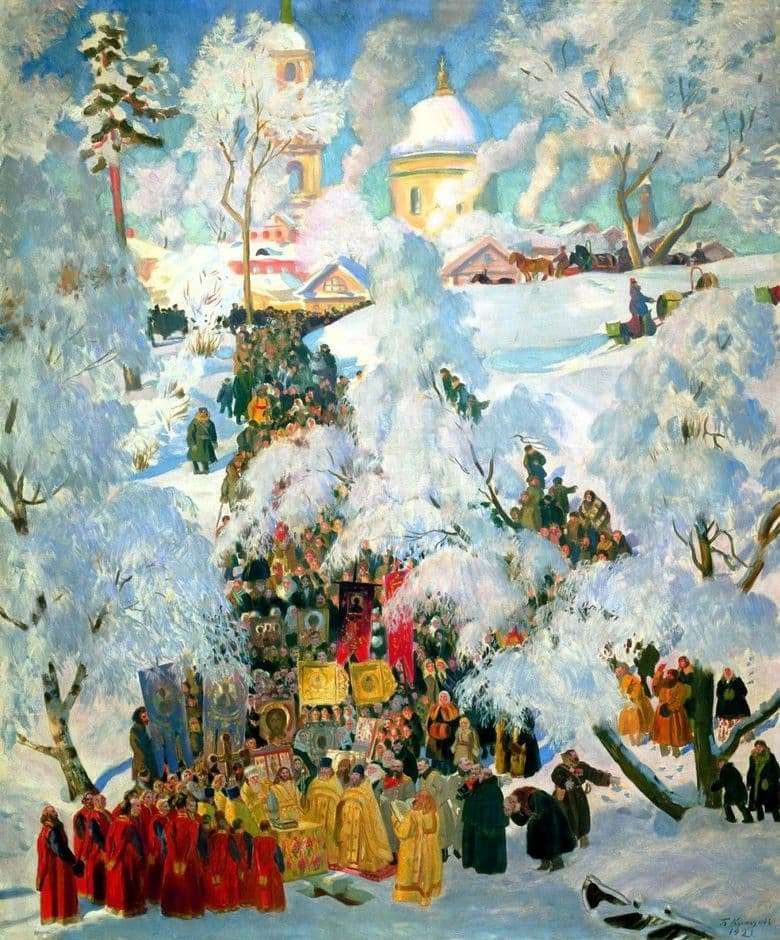 It is not by chance that Kustodiyev chose one of the most significant rituals for the people as the theme for his work. The unique design of the artist was to show the attractive aspects of the nation-wide way of life for him, part of which is a celebration that determines the optimistic mood of his canvases. The solemnity of the church festival is captured by the painter expressively and vividly.
The picture is a combination of plot composition with elements of the landscape: groups of people and actions to conduct a sacred ritual with snowdrifts, trees, roofs and a temple swept by snow, towering over the entire composition. Unusual view of the artist on the image: he is watching what is happening from above, as if soaring over a mass of people. In some places, snow-covered tree branches obscure the crowd.
The artist draws attention to every little thing. In the foreground, a group of priests in solemn robes of red and
golden colors conduct a ritual of consecrating water near the ice-hole in the shape of a cross. Nearby is a boat frozen into the ice, also covered with snow. A huge number of people lined up on a snowy road between the trees, waiting for when it will be possible to collect the consecrated water. In the distance, a horse drawn sleigh is moving along the road.
The whole canvas is permeated with light, which gives it a flavor of snow, although its shades are diverse – from bluish and gray where the shadow falls to dazzling in the sun. Elegant festive colors of the canvas create an elated, solemn mood among the audience, make you tune in to the emotional state of spiritual kinship with the heroes of the canvas.
Kustodiev's proximity to the people was expressed in respect for traditions, knowledge of the customs and way of life of the people. The canvas is inherent in academic professionalism and decorativeness characteristic of the style of his time. The picture sparkles with optimism and bright colors, expresses the national spirit and majesty of the nature of the native country.





(
1
votes, average:
5.00
out of 5)
Description of the painting by Boris Kustodiev "Epiphany" (1921)