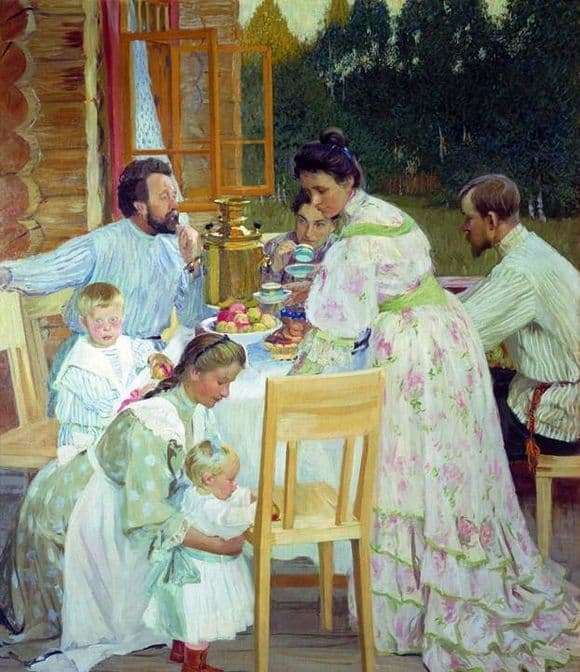 One of the most famous Russian artists of the 19th and early 20th century, Boris Mikhailovich Kustodiyev, began his career as a portrait painter and graduated as a painter of various genres. He worked a lot for the theater, and this passion clearly influenced the talent of the artist.
In 1906, Kustodiyev wrote a deeply lyrical and light work "On the Terrace", which is currently kept in the Nizhny Novgorod Art Museum. The material of the painting is canvas and oil, dimensions about one meter per meter. If it were not for the special subtle sensuality of this masterpiece, he would hardly have stood out among the other, much brighter pictures of Kustodiev.
The work is striking in its realism. It seems to the viewer that he has become an unwitting witness to a quiet family meeting, most likely even an ordinary dinner in a country house. Summer green background gives a reason to feel the warm breeze, swaying white curtains of the open window.
The lightness of the family members' robes, the light shades of clothes and tablecloths – all create the impression of the airiness of the scene taking place. A silent meeting gives peace, peace. The wooden house here becomes a symbol of the hearth, and the yellow polished samovar, around which families have always gathered, accentuates the comfort of home.
All the works of Kustodiev are imbued with love for the people and people, and this work is no exception. Light shades, good composition. "On the terrace" shines with vitality, love for home.
Small children and caring adults, hot tea on the table and good weather are all you need for a relaxing evening with your loved ones.
Of course, it is not difficult to guess that the artist depicts his family, and not random characters. Here are his wife, children, sister with her husband and nanny in the setting of their most ordinary evening.