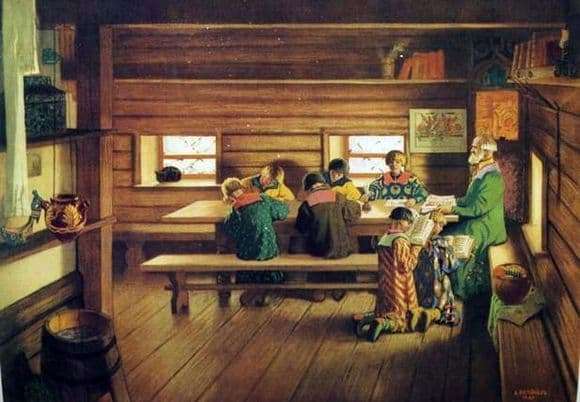 Many historians believe that it is no coincidence that Kustodiev was fond of the history of Russia. On many of his canvases, he recreates not only the people's way of life, but also the special character of people from past ages.
We see the usual Zemstvo school, which is quite common for that time. Seven boys are hard at work. Five of them learn to write with traditional feathers. They are as focused as possible and fully immersed in this important activity. We feel that they are trying to do the job very well.
In front of the teacher are two more boys. They are kneeling and reading a book. It becomes clear that not all students study so diligently. Some need to be forced to do it. Probably, these two tomboy are thus punished for some kind of offense which they committed. On the right we see the teacher. He is strict and very serious. The viewer can feel that this person is really proud of his profession.
On the table the teacher is a book. But she does not attract his attention. All his attention is absorbed in what his students are doing. It creates the overall impression that Kustodiyev portrays such a teacher who not only punishes pupils for pranks, but also praises them for obvious successes.
Zemstvo schools were especially valuable for the people, since children of ordinary people could get an education in them. The artist depicts a school, the atmosphere in which is strict, but at the same time cozy. We see furniture made of wood, and various simple utensils. Most likely, this is just a room in the hut. But everything blows incredible warmth. It is very important.
Kustodiyev portrays high purity in school. The floor here, though unpainted, but rubbed to perfect shine. The windows are perfectly clean. The light of the sun does not just penetrate them, but flows in a special way.
The picture is dominated by brown and green tones. He manages to create a truly cheerful canvas. Kustodiyev, as if telling us that education is very important in our life. It is worth approaching it with maximum responsibility at all times.