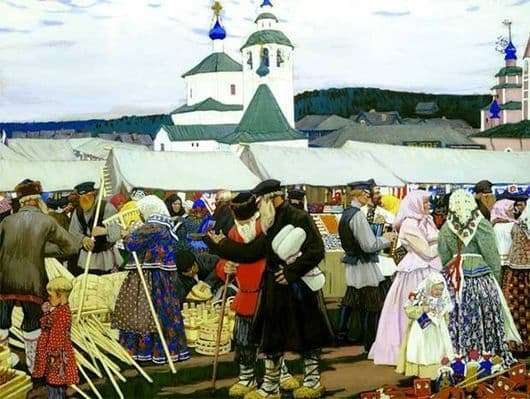 Fairs have always been a central place for hanging out many villagers. At fairs it was possible to make useful purchases, often only at fairs it was possible to produce some things. In addition, the fair – a place of entertainment, various contests, communication. Such a fair is depicted in the picture.
Not one visitor to the fair viewer can not see the face. All visitors to the fair put on their best festive clothes – and how else, because the fair for them was a truly festive event. Women have elegant dresses, patterned scarves, men have new bast shoes and beautiful caftans.
Two elderly men in the foreground are discussing something fiercely. Most likely, they are talking about previous fairs. Out of habit, children gaze at sweets and toys. Here is a girl clutching a new doll in her hand, and a boy chewing sugar. Most women choose and measure beautiful patterned scarves. Two young ladies discuss the goods on the counter among themselves. On the other side of the canvas, the new indicators show suitable things in the household – rakes, shovels and wooden buckets. A woman tries to bargain with the seller rake.
Young guys choose musical instruments. Their choice fell on the harmonica. They are not in a hurry to buy it, first try the sound of a new musical instrument.
Everywhere there is a vibrant life. All visitors to the fair are lively and cheerful, they talk, discuss everything that happens around, discuss the brought goods, consult, bargain.
And behind the fairground there is a village. Gray houses, leaning roofs, a church and a gray, gloomy, low-hanging sky. Very soon, the bright fair day will end, and all buyers will return again to their old houses, return to the old, measured and gray life.