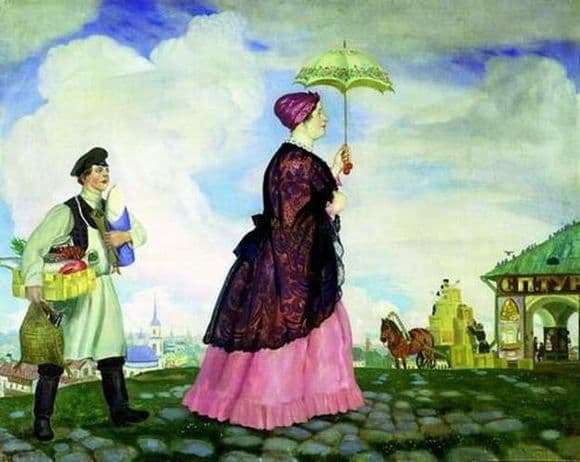 The painting, created by Boris Mikhailovich Kustodeev in 1920, is currently kept in the National Art Museum of the Republic of Belarus. "A merchant with purchases" is a bright pictorial canvas illustrating the folk life, its fabulous side. A tall, lush merchant in a purple-pink dress on a crinoline, stately walking through the pavement square.
Light lace burgundy cape saves her from the morning heat, as well as a green silk umbrella that she holds in her left hand. A light turban, put on her head, fits in with the cape, the bow, decorated with bows and ribbons. A rich merchant meets his appearance with all the traditional ideas about a woman of a noble family of that time, but it is impossible to call her a lady of blue blood for sure, she has strong spirit, kindness and simplicity.
A young guy is trailing behind the merchant, in the hands of his many purchases, which the lady has chosen on the city market: this is bread, and fish, and delicacies in a basket. In addition to everything, the young man carries a small bag, bottles peeking out of it, possibly with oils or wines. Hardly keeping up with the merchant, he tries his best to please her. At the same time, the lady does not have the appearance of an aristocratic woman; her simple, straightforward nature betrays an open round face, a ruddy face, brown hair, and a large figure. The aristocratic manners are carefully hidden behind the gentle, but powerful temper of the merchant.
An important look, proud, broad gait – all this loudly suggests that the merchant is walking down the street. In the distance, on the slope, there is a temple and city buildings in the morning haze, in the near plan the porters-men place heavy drawers at the tavern, and the fast horse in the harness waits until the hour when you can walk lightly along the cobblestones. In the morning, sometimes a fuss came to the city and, of course, the stately lady with her boy bought everything necessary for the upcoming evening.