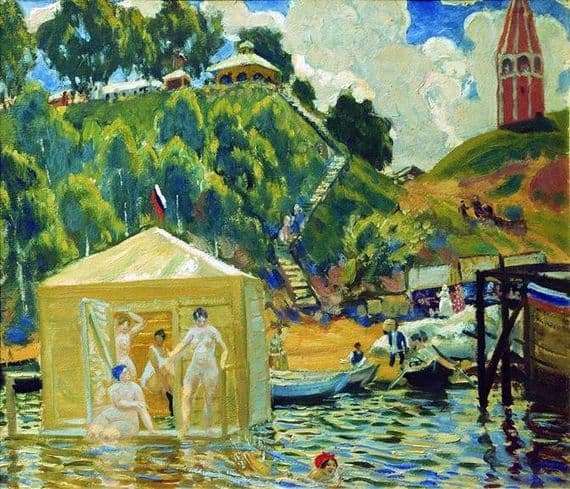 An amazing picture of Boris Kustodiev, the famous master of painting, "Bathing" was painted in oil on plywood in 1912.
A wide range of colors and rich colors show the handwriting of the painter. A bright sunny day is shown truly "in Kustodiyev style". The viewer opens up the blue of the sky, the glitter of water shimmering in the sun, the green slope with young birch trees. Against this background, stands a bright yellow bath. And all these details emphasize the beauty of a warm summer day.
With great tenderness and delicacy, the author of the work prescribed images of bathers. He does not detail the figures of women that bathe, but depicts female silhouettes a little blurry. It does this in a schematic way, diverting the eyes of the spectators from the very place of bathing, focusing attention on the beauty of the brightly colorful artsy nature.
And everyday life is flowing around: boatmen offer services of carrying water over the water, a loaded cart rises along a slope. On the right is a red painted church on a hill.
The artist celebrates the festive summer mood of the swimmers by depicting the flag of Russia. The tricolor in the picture painter captured twice. Cloth white-blue-red color can be seen on the pool and on the side of a huge boat.
Women bathers enjoy the warm sunshine, the smoothness of the river, they are talking among themselves, obviously, about the most ordinary things, because a measured life flows around and there is a blessed time.
The brightness of Kustodiyev colors overwhelms the soul of contemplators with joy and delight.
On the canvas, everything is to some extent too – too bright a colorful background of the picture, which leaves almost no airspace, too green trees, too relief waves, too much saturation.