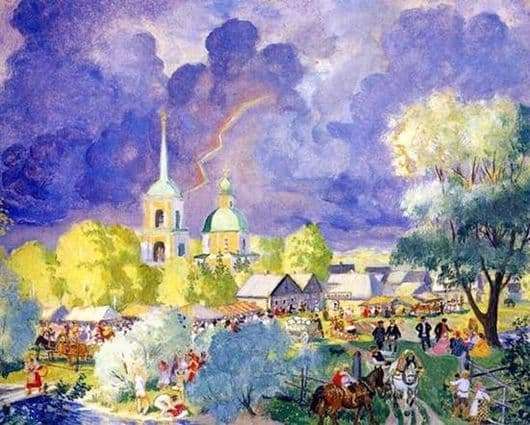 The last one and a half decades of life, Kustodiev was a wheelchair user. It happened after an illness and a serious operation on the spinal cord. Partly because in his life he was tormented by constant pain, his paintings always depicted the brightest side of life.
Something similar can be seen in the picture "Thunderstorm". An ordinary village or a small provincial town. The church with golden domes, people involved in their own affairs. Kustodiev was the creator of a new genre – the portrait-painting, classic portrait compounds known person with popular prints. In this picture – a portrait of everyday life.
Cloth as detailed as possible. Registered every little thing. Most ignore such trifles passes in life, do not pay attention to them. Bathers in polka-dot dress, woman, running across the river with a basket, a young girl, wash clothes, old lady, to prove something to her husband near the rickety fence. For standing waggons and numerous trade stalls it is possible to guess that there are just over the fair, going to other cities.
The picture is almost a typical splint: a quiet village, people, a temple, respectable houses, a fair. The only thing that stands out from the outside gloss is lightning, broken, multi-colored, beating into the dome of the church – after all, the originally high spire is just a lightning rod. But even this artist was able to inscribe in splint: lightning beats the temple, leaves him and does not reach people. Nobody pays attention to it, and everyone continues to go about their business.
"Thunderstorm" is made in the traditional Kustodiev technique. He wrote in oils and pastels. Oil was used to portray the sky. Everything that is written below – the church, houses, trees – is slightly muffled with pastels. This picture is a successful combination of Russian character with modern and even impressionism.