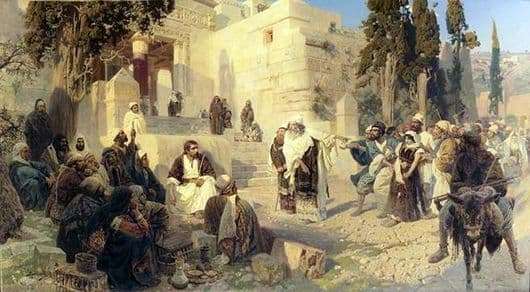 Having embodied biblical truths in his canvas "Christ and the Sinner": "good always triumphs over evil", "forgiveness is the path to God", Polenov picked up the appropriate name for it. Initially, it sounded: "Who among you is without sin?", And the censors replaced: "Christ and the sinner." Under such a name, the canvas was presented at the St. Petersburg exhibition, where it was bought by Alexander III – the Russian emperor.
Before writing this picture, the author had to make a couple of trips to the East in order to thoroughly study the national peculiarities of the Jews and accurately convey the atmosphere of a legend from the Bible. And the plot for her was the biblical legend of the sinner Christ. It tells how to Jesus, on his return to the temple, a woman was brought, caught in a sinful occupation (adultery).
The men, putting it in the middle, asked what to do with it. After all, Moses taught such sinners to stone. And Christ answered: "If there is a sinless among you, let him throw a stone at her." And silently continued writing. All began to gradually leave. Only Jesus and that poor woman remained. Then he told her that if no one condemned her sin, he would not. Then he simply ordered her to go home and no longer sin.
This picture has destroyed the traditional principles of the artistic image of Jesus. After all, Palen was able to focus primarily on his human qualities. Christ, he did not write – not as God, but as a wanderer, sage and philosopher. The canvas has caused quite a lot of controversy among critics. But still this picture most vividly and vividly revives the ancient Gospel legend. And Jesus at Polenov is most earthly: he sits quietly in a slightly weary pose, dressed like an ordinary person (an acquaintance of an artist whom he met in the East). Thus, it is as close as possible to the common man.