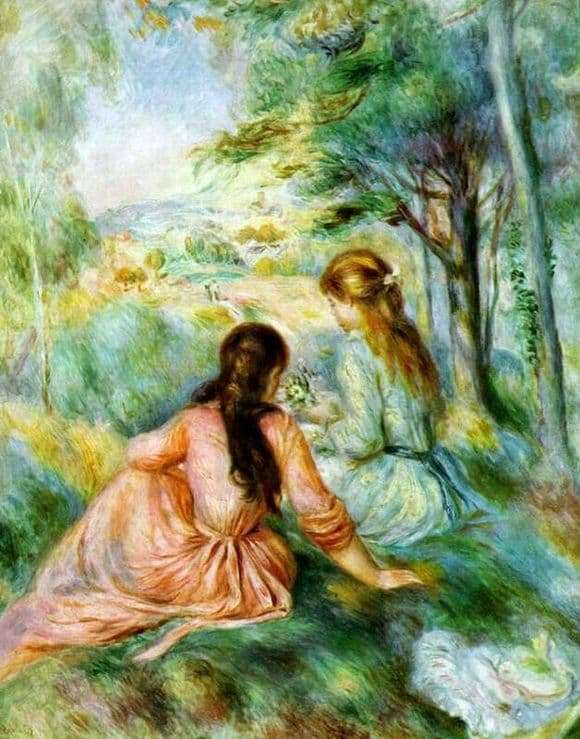 Auguste Renoir was among the most important artists of French impressionism. He wrote a lot of social life in Paris: its crowded cafes, magnificent theaters and such a diverse human mass.
Not less attracted the painter's heart far from urban buildings nature. Spring and summer, rapid flowering and raznotsvete, overgrown grass spaces and branched trees… The splendor of nature is often adjacent in the paintings of Renoir with the beauty of women. Similarly, in the painting On the Meadow, two girlish figures are in the arms of grass, flowers and endless fields.
The "girls in the meadow" were written between 1890 and 1895. Impressionism is rampant on canvas in the brightest bloom. Sweeping strokes of paint draw a vortex of etched reality.
The technique of Renoir is so special that the oil paint, heavy in texture, falls on the canvas so easily, as if the artist writes in a gentle, airy watercolor. Light confident strokes of colors pass from one to another, creating the effect of flowing objects of the composition, they seem to melt in the surrounding objective world.
Two young girls sit back to the viewer. But in a similar perspective, the master managed to express the beauty of feminine beauty: wasp waist, tied with belts, feminine long dresses, thick hair…
In a cozy nest of nature, girls peacefully chat, collecting sunny daisies. In the distance, there are still figures of people, but they are smooth, blurry, not at all clear. And then – multicolored pieces of groves and meadows.
In the works of the French impressionist it is not necessary to search for the deep feelings of the depicted heroes. His works are a natural embodiment of the harmony of life and the magnificence of plastic forms.
Today, girls picking flowers through the eyes of the brilliant Renoir can be seen in New York, where the Metropolitan Museum is now located.