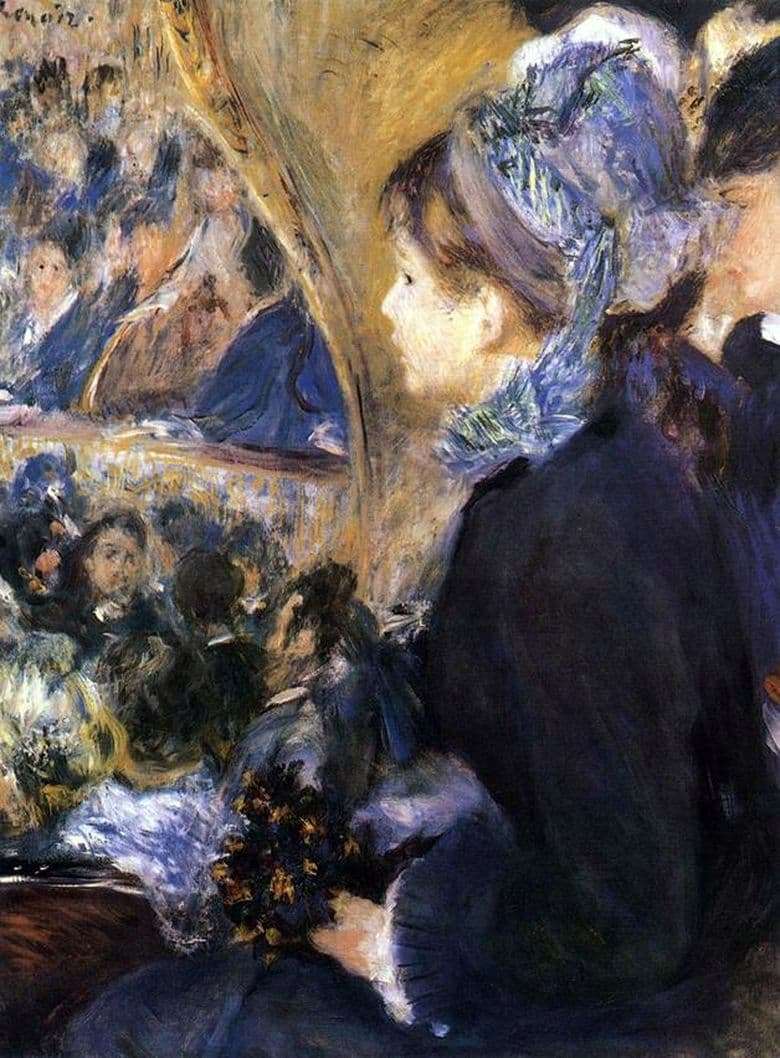 This picture on the theme of the theater is not the first among the lists of works by Pierre-Auguste Renoir. At the heart of the plot is a girl watching the theatrical performance, she is the biggest figure on the canvas. Renoir liked to depict women in her works; thus, each woman is depicted as a beautiful, tender and young creature.
The girl's bright, almost white face is directed towards the stage in such a way that only her profile is visible to the beholder. The face expresses concentration and surprise. Slightly broken lines depict the hair of a young individual of a dark brown shade, mixed with blue, yellow and orange strokes. The girl's hair is removed in a headdress consisting of a white and blue strip of fabrics. According to the peculiarities of impressionism, the elements of the picture do not have a single color, but contain bold strokes consisting of very different shades. The dark blue dress of the girl with bluish splashes fits her sitting figure, and the sleeves widen towards the tassels.
In the background we can see a lot of viewers, extremely vaguely depicted. The faces and clothes of people are transferred with careless strokes. In the foreground among the crowd, dressed in black clothes, you can see the face of a man, whose eyes are directed towards the girl. Just above it is seen a collection of spectators, whose contours are extremely fuzzy, and the figures are drawn up and ornately twisted. Golden curved arc separates the audience from the room itself. The abundance of colors, the peculiarity of the curves of the figures, the absence of clearly marked faces and poses convey the turmoil, mobility and excitement of the audience before the upcoming performance, while the main character is depicted static but tense.