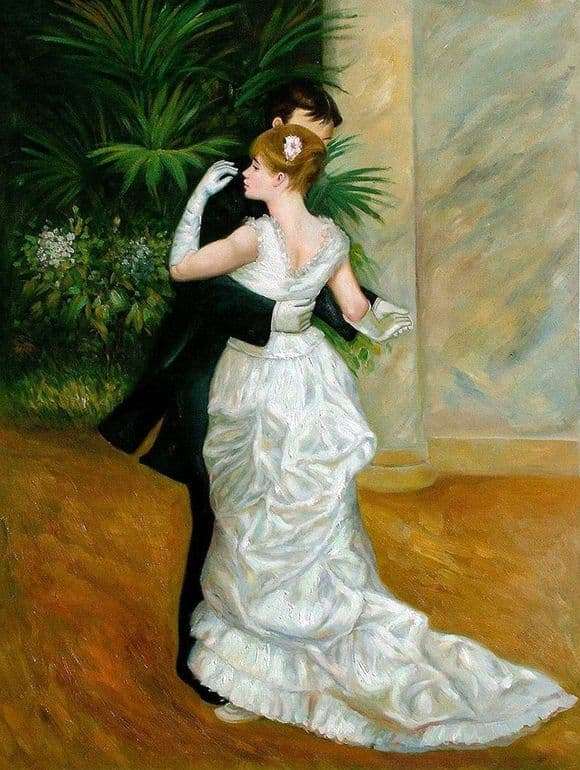 To the birth of the painting "Dance in the City", which Renoir wrote in 1883, was directly implicated by a certain Paul Durand-Ruel, he ordered for himself three picturesque panels, where dances would be depicted.
Renoir was interested in this subject, he had already addressed it before, but this time the painter embodied a curious idea – the same pair was in the dance on all three panels.
The artist, as if playing, transferred the dancers to Paris (the picture "Dance in the City" had one more name, "Dance in Paris"), then the couple was transferred to Bougival, the second picture was called "Dance in Bougival", or even to the village (The third picture is called "Dance in the Village"). And everywhere, as if by magic, the same people appeared before the viewer completely different.
In the painting "Dance in the City", an elegant couple dances near the marble columns, and the look of a man and a woman is extraordinarily elegant and full of elegance. The man is dressed in a classic black dress coat and white gloves. He carefully hugs his lady, but his whole pose is full of gallantry and attention.
The woman is unusually sweet. Her slim figure is covered with a brocade dress, which gives the lady more shine and lightness in soft folds. A high hair style opens a delicate white neck, the neckline of the dress shows the immaculate whiteness of the shoulders and back.
The coquette is extraordinarily beautiful – a gentle blush on round cheeks, an upturned nose, beautiful eyes. Graceful hands emphasize the plasticity and beauty of the movements.
According to the knowledgeable people, Renoir's friend Paul Lot posed for this picture. However, it is difficult to assert – the man's face is not visible here. But the lady's face is written rather subtly, and in the image of a dancing woman, Marie is depicted Clementine, it was she who posed for Renoir.
Later, this attractive woman herself became fascinated with painting and became famous as the artist Suzanne Valadon. She conveyed her love for painting to her son, who is known as Maurice Utrillo.
But all this will be later, and now, in this picture, only a silent melody and a beautiful, young couple.