Home

⇒
📌Renoir Auguste

⇒
Description of the painting by Pierre Auguste Renoir "Portrait of the actress Jeanne Samary"
Description of the painting by Pierre Auguste Renoir "Portrait of the actress Jeanne Samary"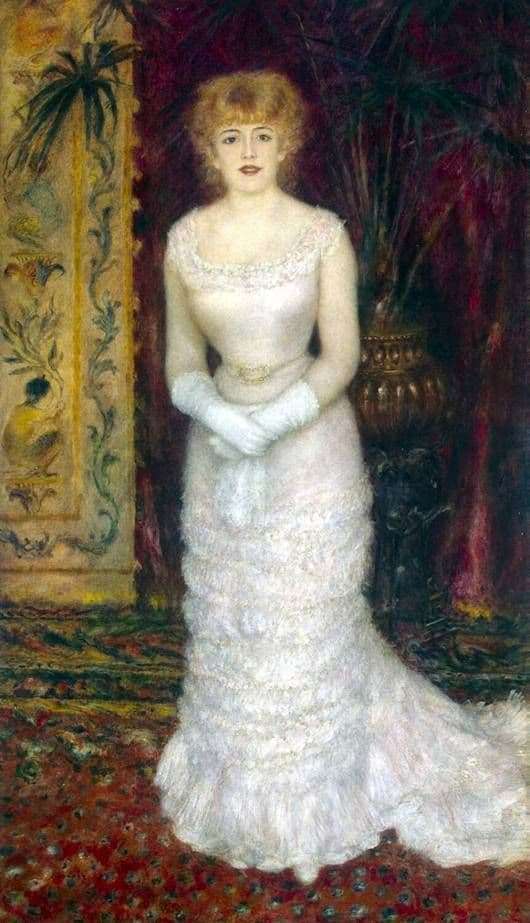 The first of the main representatives of the Impressionists, who became a master of a secular portrait and gained popularity among rich Parisians. Using the contrasting play of light and shade, which made the images in his paintings almost sculptural, he created such masterpieces as "Swing", "Naked", "Lodge", "Path in the tall grass". A special place in the creative heritage of Renoir is occupied by the portrait of the actress of the Comedy Theater Francaise Jeanne Samary. Renoir met her when she was 20 years old at Madame Sharkanye, whose portrait was also painted.
The artist was fascinated by the beauty of the actress, her fair skin and red hair. The appearance of Jeanne superbly could be portrayed with the brushes and paints of the great French artist. In total, 4 portraits of Jeanne Samary were written, which not only immortalized the beauty of the actress, but also made her
a symbol for flirtatious and refined Parisians.
All portraits, although they depict the same woman, differ from each other in composition, color and size. They need to look at from a distance, like many works of the Impressionists, so that the strokes merge together and create the image that the artist wanted to convey to us.
In 1878, Renoir created the third, most significant and large portrait of the actress, a full-length portrait. An exquisite woman in a fashionable for those times pink dress with a neckline and a long train. Her bare hands are elbowed with gloves. The figure of a woman is tilted slightly forward, as if approaching the one who is looking at her. Delicate, as if glowing skin (about which Renoir said "What a skin! A real sunbeam"), stands out in contrast with the rich interior with a palm tree and a massive stand behind the woman. The colors smoothly flow from one tone to another, elegantly combining the color of the dress with the actress's reddish hair color. Dark blue eyes playfully and directly look at admirers of talent of Renoir.
The fate of Jeanne Samary is tragic, she died at the age of 33, but thanks to the artist's paintings depicting her inner and outer appearance, actress Jeanne Samary will forever leave her mark on human history.
"I look at the portrait of Jeanne Samary, as I would look at the portrait of my dead sister," said Renoir.





(
1
votes, average:
5.00
out of 5)
Description of the painting by Pierre Auguste Renoir "Portrait of the actress Jeanne Samary"