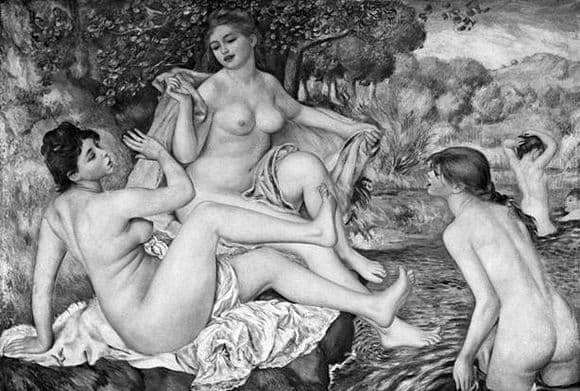 Auguste Renoir has always been a sincere connoisseur of the female body and tried to convey this beauty to the widest audience.
The painting "Big Bathers" was perhaps the most vivid creative work of this painter. It was on this canvas that he worked for several years, making rough sketches, writing out separate sketches, developing each figure of a woman and making her truly divine.
Rounded female forms, according to the artist, were the most attractive. They were also the measure of female maturity for the pores of love feelings. This picture shows three beautiful women with naked bodies.
Two have already left the water and are resting on the shore. They possess not thin bodies, but it is to their bright, juicy forms that the attention of the viewer is riveted. It is they who are in that ripe age when they resemble a ripe, fragrant fruit, filled with sweet, stupefying juice. Beautiful charmer women know this, therefore they themselves admire their whiteness and alluring forms.
The third bather is a young girl. It can be seen that it's time the girls have not come yet, her childhood is still so vivid – here she wants to spray the rattled young ladies with water, but they are not interested in such games. She is attracted by the mystery of maturity, she wants, at least, to be near with these naked goddesses. A little further you can see how very young girls bathe. Youthful harmony has remained the background, not attracting special glances.
The models for the painting "Big Bathers" were women, quite famous. One of them, which is covered with a hand spray, is Alina Sharigo, later she will become the wife of Renoir. True, the marriage will be concluded five years after their firstborn is born.
The second is Suzanne Valadon, this beauty was repeatedly a model by Renoir, after which she began to paint herself and became famous as the first artist of France, and later still, as the painter's mother.