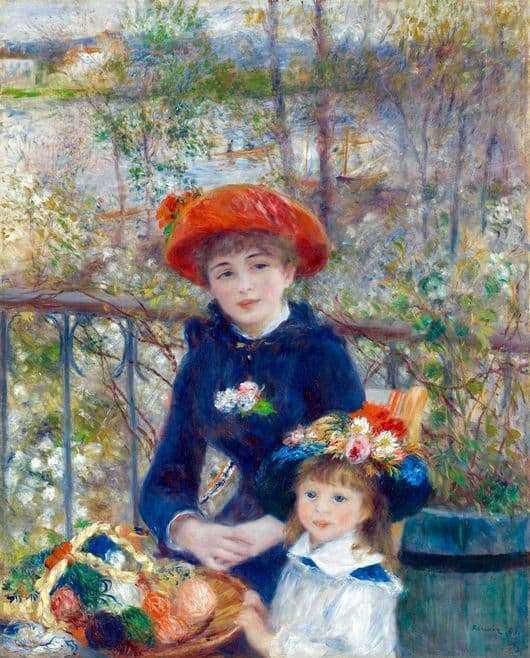 Picture painted in 1881
This creation of the master is one of the brightest in Renoir, if we consider it in terms of the saturation of the colors used. Initially, the work was called "Sisters", but in real life the heroines depicted are not related to each other.
We see the summer terrace of the restaurant, which is located in the heart of Paris. It seems that this is a quiet corner in some distant village. The picture creates an incredibly warm and simple mood. This is facilitated by the usual basket, in which there are balls of wool of different colors, as well as needlework. Girls appear before us in absolutely simple and maximally natural poses. The younger one looks directly at the artist, so we can meet her eyes. The elder feels awkward.
Renoir was able to masterfully convey a special connection between the heroines. Paints have something in common. This can be said about their headgear, a special blush and other equally important details. The faces on this work are incredibly expressive. Renoir wrote them with special skill.
The red headdress of one of the heroines and other similar accents in quite significant details can create an incredibly dynamic and especially energetic plot.
The background in the picture is deliberately blurred. It was he who gives the entire canvas a special dynamism and incredible lightness.
We can fully feel the charm of this warm summer day, as well as see how beautiful and especially dressed he is. Renoir was able with special skill to convey an instant impression of the scene, which he managed to see. The work of the artist has become truly half transparent, as well as wonderful in its particular lightness. We feel that an incredibly warm and lively light emanates from the inside of this magnificent work.