Description of the painting by Mikhail Nesterov "St. Sergius of Radonezh"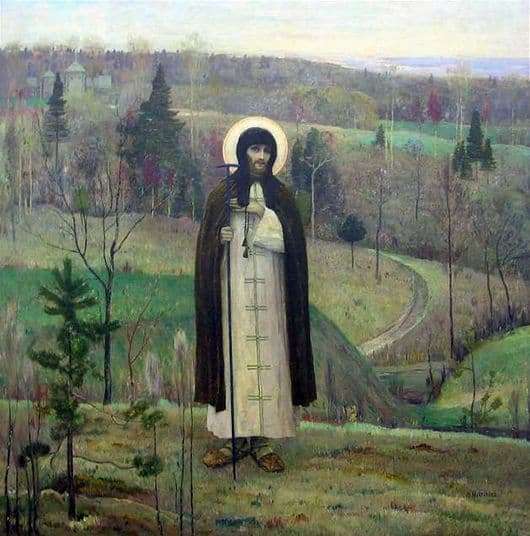 "St. Sergius of Radonezh" – one of the paintings of the religious cycle of Michael Nesterov, dedicated to this saint. The artist began working on the canvas in 1891, not yet finished the other paintings of the cycle. However, despite the apparent simplicity of composition, the writing of the image of Sergius of Radonezh took more than 7 years, and completed the work of Nesterov only in 1899.
The composition is really simple: on the background of the fading, autumn Russian nature, the icon-like figure of the saint is depicted. But this is only a first impression. The picture attracts attention. The same sensation causes a barely audible sound, which, ever stronger and stronger, makes you stop and listen.
In fact, thanks to a well-built composition, the picture seems to sound. Rising above each other, the plans gave the canvas an extraordinary depth and the figure of St. Sergius that dominates them, almost
rises above all these expanses. This effect gives the canvas a certain monumentality. Immediately it becomes clear and symbolism, through which the artist wanted to convey to the viewer all his emotional impulse, caused by the image of a great man.
The image of Saint Sergius is registered by Nesterov also in an unusual manner. The saint is not depicted as a gray-bearded old man. From the canvas looks at the viewer to the wave of a young, full of strength man. This is exactly what the artist Sergius of Radonezh wanted to show, thereby asserting that holiness is not age, but human actions.
The canvas "St. Sergius of Radonezh" is somewhat different from the other works of the cycle, being its apotheosis. And maybe that is why it is not so scary that, contrary to the wishes of the artist, it is impossible to see all the pictures of the cycle together. Three of them are in the Tretyakov Gallery, and only the final painting "St. Sergius of Radonezh" is on display in the Russian Museum.





(
1
votes, average:
5.00
out of 5)
Description of the painting by Mikhail Nesterov "St. Sergius of Radonezh"