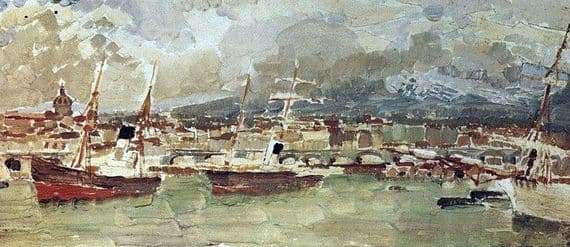 The picture was created in 1894 in oil on the tree.
The style in painting is realism. Genre – urban landscape.
Vrubel became for our country one of those whose creative heritage became the cultural heritage of Russia. He skillfully and fully owned graphic materials.
His paintings were mentioned by the great Russian literary figures. But Vrubel occupied his worthy creative niche not only in the history of Russia, but also at the world level. Vrubel created a huge cycle of pictures on the demonic theme. But he himself was a quiet man, short, with blond hair. There was nothing evil in his character and appearance.
The artist all his life sought to perfect possession of the brush. Over the years, he found new tricks that were not known to him or anyone. The coloring of his paintings is amazing. He wrote not only scenes related to our country, but also canvases with landscapes of other states. Italy and Italians had a special influence on him.
Painting "Catania. Sicily was created precisely under this influence. On it the artist depicted boats in the bay. On the island of Sicily near the volcano Etna is a large city of Catania. This resort, where for decades people could spend time on the beaches, travel in the sea in boats and ships. Vrubel portrayed on his canvas boats that lowered the sails and stand on vacation. But soon they will set off again on the sea surface.
The work is done using a mix of brown, white, gray shades. Vrubel did not use the usual blue color for the image of the sea and sky. This makes his work individual. But, despite the use of no ordinary shades, the picture looks quite realistic and deep, which proves once again the skill of the artist.
The canvas is stored in the State Tretyakov Gallery.