Description of the painting by Mikhail Nesterov "Autumn Landscape"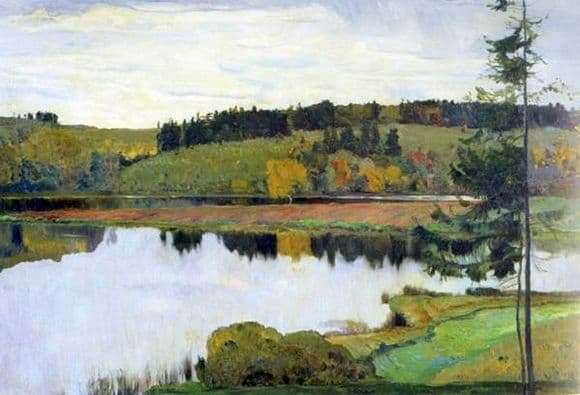 1906 is considered to be the time of birth of the painting. Nesterov showed not only the beauty of Russian nature, but also his attitude towards her. The feeling of love, pleasure immediately rushes to my eyes. This picture, despite its age, it is more than 100 years old, people of different ages and generations like it.
In the center of Nesterov depicted a lonely tree, its singularity lies in the fact that on one side there is foliage, on the other it has fallen. When you look at this picture, you glance across the river. There is an unusually beautiful landscape.
The artist wrote the beginning of autumn, which is timidly included in its rights. In some places where the foliage is completely green, untouched by yellowness. Beauty – autumn has worked on the choice of colors. What only here are no flowers. They transform trees in bright spots.
Also central to the picture is a majestic, calm river. Which does not disturb the autumn breeze. The surface of the river is like a mirror in which beauties are reflected – birch. It is as if they cannot look at the new outfit presented by nature itself. Air clouds are reflected in the river.
This picture, despite its calm, brings sadness. It becomes sad from the inevitability of the approach of autumn, from the fact that everything has its end. So the joyful summer has also come to an end, ahead of slush, cold, frost. It is not at all joyful to think that it is necessary to let go of the summer, with its joy, the sun, the fun.
Nesterov quite accurately showed the beauty of Russian nature, the charm of each season. You need to learn to accept what is given to you. So in this picture, you must accept and see the beauty and singularity of the autumn landscape. And summer is worth omitting. We must be able to enjoy what is given to us at this moment.





(
1
votes, average:
5.00
out of 5)
Description of the painting by Mikhail Nesterov "Autumn Landscape"