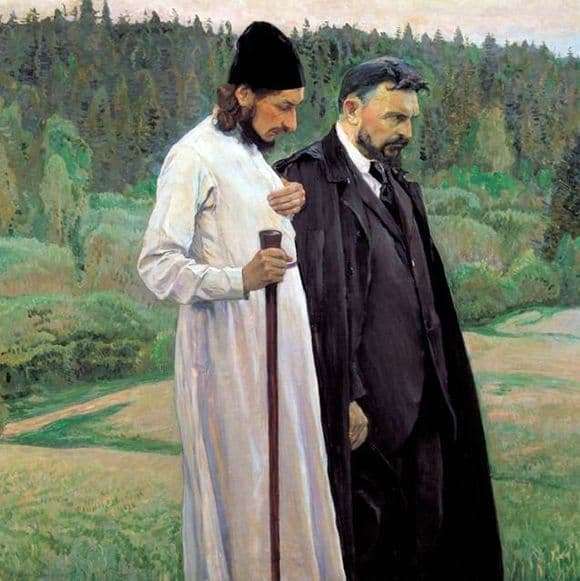 Soviet artist Mikhail Nesterov in 1917 wrote a double portrait of "Philosophers". Figures for the picture, he invited his friends. But they were also outstanding people whose religious and philosophical views the artist admired. On the left on the canvas – P. Florensky, on the right beside him – the famous S. Bulgakov.
The author clearly wanted to show the antagonism of his characters. First of all, it is expressed in their clothes. Florensky in the guise of a priest dressed in a snow-white robe, black only his modest headdress. His companion, Bulgakov, is dressed in a strict black suit with a tie and a raincoat, and only the collar of a shirt is white. Another difference between these people is in facial expression.
The priest is full of humility and humility, his gaze turned to the ground. Such an image is the very embodiment of meekness. The man beside him with a stubborn gaze is looking forward. Violent opposition and a courageous riot are noticeable in his features.
Despite the almost complete opposite of the characters, the heroes of the picture walk side by side like good companions, measuredly talking.
The fact is that what unites these people is something more important – thoughts about the fate of their native land, anxiety about its long-suffering people. These great thinkers are busy searching for truth throughout their lives. Leisurely wandering along the path, they are immersed in the solution of important philosophical questions.
Nesterov made a typical Russian landscape as a background for the portrait. Most likely, he captured the time of flowering spring. Tall trees, lush bushes and thick grass are only here and there burned by the scorching sun.
The picture "Philosophers" reflects the spiritual vision of the era. Emotions of horror are intertwined with peace and joy. Struggle and confusion goes on to triumph. The painter depicted a beautiful quiet landscape and great thinkers – Bulgakov and Florensky, living the inner life of tireless seekers of truth.