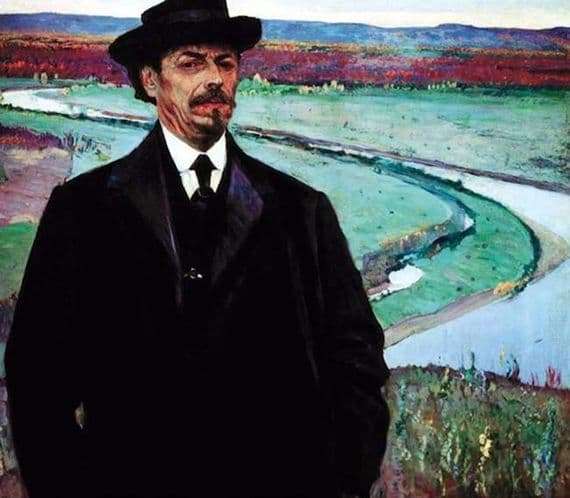 The canvas was created in 1915 in oil on a tree.
Nesterov is a great Russian artist who lived in the late 19th and early 20th centuries. His paintings are known throughout our country. He was a master of portrait. But even more significant are his canvases on religious themes, paintings of temples.
Nesterov, the creator of the great picture, written in the life of St. Sergius of Radonezh "Vision to the youth Bartholomew". Holy Russia was the most important for him in life. In his work mainly religious motives. Portraits began to meet much later. Nesterov began to portray female images after the spouse died at the birth of his child.
On many canvases you can trace the similarities in outline with the wife of a great artist.
The main portrait work of Nesterov began in post-revolutionary Russia. All his faces are written from real people, because in them he saw the main human essence.
Own self-portraits, he created about ten. He never wrote on request, he was always an independent artist. Nesterov is a master of graphics on his canvases. On a self-portrait of 1915, Nesterov depicted himself against the backdrop of his favorite place. He had already used it for writing 20 years earlier.
The artist was very fond of this quiet river, the view of mountains and forests in different seasons and times. He depicted himself in the foreground, as if showing the image of a man of the new century. His haughty eyes look down on the viewer. The image is extremely strict, but his soul hurts. He understood and was acutely worried about the events that began in Russia.
Showing himself in such an image, the artist displayed new people, old times and silence are gone. Russia is waiting for a time of great unrest and hard times. The landscape depicted in the background, the artist wanted to leave in his heart and show decades later to the audience. Cloth is alarming in the soul and sadness.
The painting is in storage at the State Russian Museum.