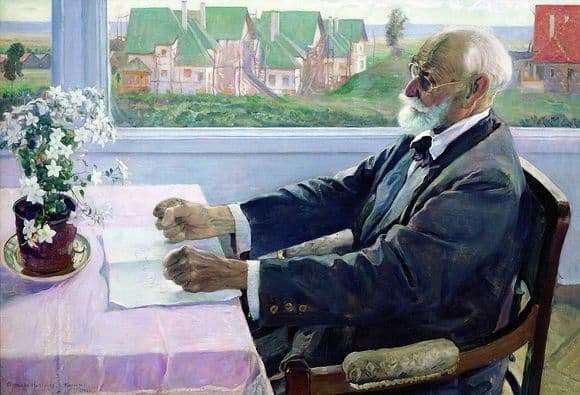 "Portrait of Pavlov" has two versions. The first of them was published in the 1930s, the second (which will be discussed) in 1935th. The second version received the most recognition, as a result of which it was sent to the Tretyakov Gallery.
Nesterov painted pictures on various topics. But he paid great attention to religion. He worked in many monasteries, which influenced his persecution by the Soviet authorities. After he was released, the artist switched to writing portraits. He did not make them to order. And he painted only his close friends. One of them was not lucky enough to be academician Pavlov.
Friends long persuaded the artist to draw a portrait of Pavlov, but Nesterov refused in every way. He saw no point in capturing this man. But even more did not consider himself so professional to go to this level.
However, in 1930, persuasion took its toll. Nesterov moved to Leningrad to draw an academician. Pavlov was sitting on the veranda of his house at the time of painting. It was a hot summer day. The veranda was fresh.
Academician sits serenely at the table and looks off into the distance. This is a bit contrary to his real image. After all, Pavlov, as the artist wrote later, was distinguished by restlessness, vigor and a good sense of humor.
After this event, the artist and the academician became friends, and Nesterov then often visited Pavlov's house. Over the next few years, the artist painted a whole series of portraits, which led him to the idea of ​​creating a new canvas depicting an academician.
This time Pavlov posed for the artist only two hours in the morning. For the best effect, the academician led a conversation with one of his staff at the time of writing the picture. So his image came out clearer and closer to reality.