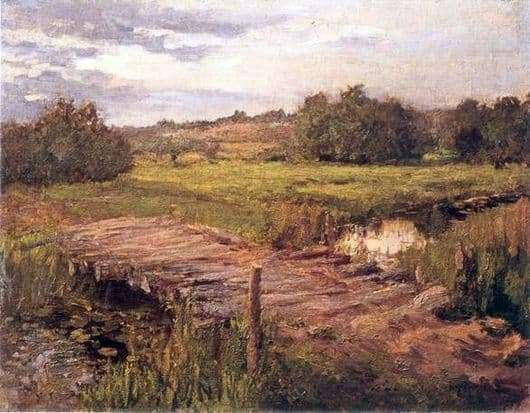 Konstantin Alekseevich Korovin always loved Russian nature and very often painted it. He saw the beautiful even in the smallest detail. The artist praised the natural perfection and sought to convey its original appearance. His paintings convey the true beauty of the Russian land.
In 1898, Konstantin Alekseevich wrote the canvas "Stream". Remotely, the picture resembles the work of Polenov, color rendition does not occur through bright spots. All shades are muted, in the background there are hills and low growing trees. The stream is calm, charming water lilies grow on its surface.
The surface reflects the sky, from this the picture becomes alive. It seems that even the sound of this peaceful water is heard. We also see green vegetation in the reflection.
The wooden bridge has already become worn out in places, but this does not spoil the general perception. On the contrary, the reality strikes and forces to rearrange for long minutes how the foot steps on this old, but sturdy construction.
The landscape is painted on the eve of the evening, the sun has not yet set, but the shadows characteristic of the evening time of day are felt. The artist is like a real poet, who managed to convey with his brush all the coherence and rhyme of the surrounding natural nature.
It is impossible not to love this picture.
In each nearby village there is such a small stream with a wooden bridge. People run across it every day, but only a few will be able to see this genuine beauty. Korovin KA was able to consider every perfect line. He simply redrawed what was so skillfully drawn by nature itself. All shades and colors are chosen harmoniously. Nothing annoys the human look.
Not every brush owner could paint such a canvas. All landscapes of this artist are filled with warmth and comfort. The author conveys real beauty and does not draw anything at all. Nature is the best artist and it is from her that one has to learn to mix colors and give one's soul.