Description of the painting by Konstantin Korovin "Paris. Capuchin Boulevard "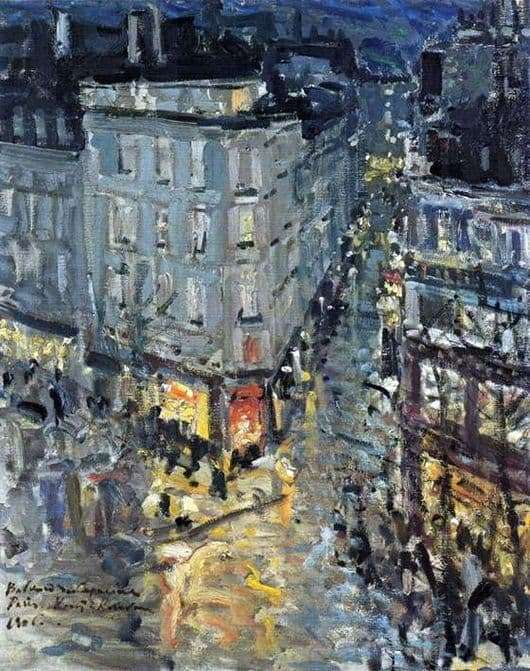 Oh, who just did not put his hands to the image of this most noisy place in Paris – Boulevard des Capucines. The greatest lovers of this place are the French impressionists, such as Monet, Manet, Degas and others. They wrote this boulevard at different times of the year and from different angles. And it always turned out to be different: it was hilarious, it was somehow vague (it was drawn when it was raining outside the window), but it was not at all understandable.
So the Russian painter Korovin also got something in the style of impressionists, a lot of color and light, a lot of people on the sidewalks and enticing lights of shops and theatrical stages.
Korovin depicted the boulevard at the very peak hour, just then when all the color of the nation comes here. And he did it masterfully, in the style of the same impressionists, working clearly from the windows of the hotel. He actually does not use bright colors,
he has them only in the display of the lights of the shops and in the highlights on the wet asphalt.
The artist worked as seen either in the fall or in the spring. Yes, it does not matter! The important thing is that he managed to convey the spirit of this boulevard, he was able to sincerely tell how good it is and why it is there that great artists and writers often rest. The explanation for this is simple: it is there among the crowd, you can find your future heroes and you can weave the plot of the next canvas or novel.
That's why there they are going. And of course, the great ones share their experiences with each other. Great, it does not mean that the rich. The boulevard is quite liberal towards everyone and not as cruel as life. Here you just need to snatch your ticket for good luck in time and keep it always with you. Someone managed to take advantage of this, but some did not manage to get into the people and they became street artists in Montmartre.
Here, life is still boiling up, until now, there are people of the creative profession who are lucky now and who are still lucky in the future.





(
2
votes, average:
5.00
out of 5)
Description of the painting by Konstantin Korovin "Paris. Capuchin Boulevard "