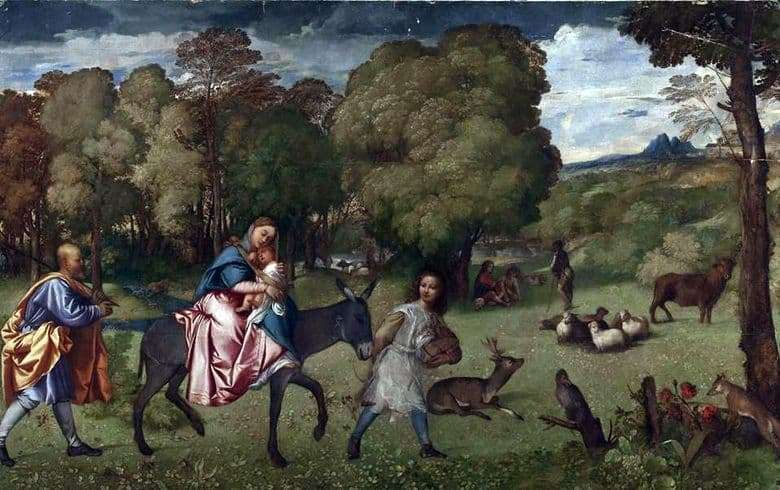 "Flight into Egypt" is considered one of the early works of the great Renaissance artist Titian, made, probably in 1507 or 1508. The work is written on an impressively sized canvas (206 x 336 cm), the landscape occupies most of the composition. Catherine the Great acquired this canvas in 1768 in Venice. It was recently restored, and is open for display in the St. Petersburg Hermitage Museum.
Mary rides a donkey, her child is on her knees, Joseph is walking. A group of travelers is headed by a young man, perhaps an angel – by tradition, the images of that time must accompany the Holy Family. The picture is filled with unprecedented sensitivity to light, which is so characteristic of almost all Titian's paintings. He spontaneously uses in some ways even a naive approach to the vision of nature, this is especially noticeable in the images of animals. A young artist demonstrates his mastery in landscape painting, his bold strokes and the exciting use of colors will later become the hallmarks of his artistic style. The landscape attracts the view with incredible green foliage, blue sky, deep blue mountains in the distance.
"Flight into Egypt" was commissioned by Andrea Loredan, a Venetian patrician, a relative of the Venetian doge Loredan, who was considered the patron saint of many painters of that time. It was planned that the picture will decorate the portico of the palace Loredana, located on the Venice Grand Canal, which now houses a casino. Loredan was also the patron saint of such great artists who worked on Venetian soil like Giovanni Bellini, Giorgione and Sebastiano del Piombo.