Description paintings Constantine Korovin "Spring"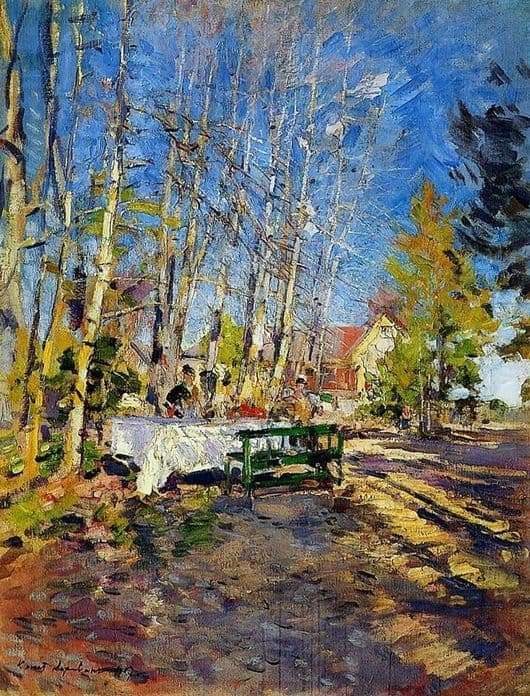 Konstantin Korovin is a Russian artist who is considered one of the fathers of impressionism in Russia. He, like Nesterov and Levitan, created bright, colorful landscapes that easily competed with ordinary everyday scenes and gloomy portraits. His works are still considered masterpieces. After all, it was not for nothing that at the School of Painting he was Savrasov's favorite.
His work has always reminded that the black line will end sometime. And the thing is not only in the perfect selection of colors and shadows, but also in the very energy of the landscape. The painting "Spring", written in 1917, was no exception.
The concept of impressionism first appeared in France at the end of the 19th century. It was the French technique, but with the use of Russian manners, Korovin wanted to use in his paintings. Only he managed to perfectly combine modernity and the tranquility of nature, warmth and cold,
harmony and a riot of emotion. He does not just draw, but leads the narration, tells the story, which is evident in the picture. In addition to the birch grove, here are the people sitting at the table, and their home. According to the artist, without these images, the landscape would be incomplete, empty, devoid of any meaning.
In the painting "Spring" there are no clear lines or abrupt transitions. Thus, the artist wanted to convey the invisible and colorless magic of nature, the revival of all life after hibernation. The colors of objects, as well as their saturation, fully correspond to the emotional tonality of the author.
Konstantin Korovin wrote only from nature, in the open air. Hence the purity of color and sharpness of understanding of everyday life, which museum pieces, written without a soul, are devoid of.
The painting "Spring" is not the first work of Korovin in the genre of impressionism. Before her, in 1883, the painting "Portrait of a Chorus Girl" was painted, which became the debut artist in this style. In addition, it is considered the first worthy work in Russian impressionism.





(
2
votes, average:
4.50
out of 5)
Description paintings Constantine Korovin "Spring"