Description of the painting by Konstantin Korovin "Summer"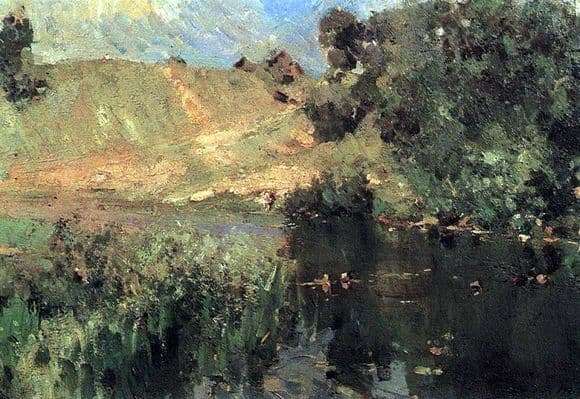 The brightest Russian impressionist Konstantin Korovin enthusiastically painted portraits and still lifes, and especially landscapes. Nature at all times of a changeable year, a clear day and a mysterious gloomy night, alone in its glory or serving as a lively background for human figures, blooming or temporarily transient, landscape painting by KA Korovin is rich, diverse, and extremely talented.
The Russian artist often contemplated the hidden corners of Russia, went to Paris every year, rested and worked in the Crimea. "Summer" of 1900, he displayed with photographic accuracy, but through the prism of an impressionistic view of the world.
The attention of the audience appears surprisingly lively composition. The technique of applying smears with oil paints seems to be borrowed from nature itself – herbs, leaves, earth, and the entire contents of the canvas look so natural, realistic.
The marsh
color of the river reflects the stains of clouds in the sky, the look accompanies its swift current. Drawing attention to the distant horizon, it is easy to notice a speck of white and red color combinations: so often did the painter wear the characters of his creations. The lonely figure lost in the fields merges with the natural expanses in harmony and serenity.
The brownish buildings of small houses hint at a constant human presence.
The picture "Summer" seems to be highlighted in yellow: this is how the author conveyed to the audience the heat of the scorching midday sun.
In the creation of Korovin striking is the thoroughness of the execution of the landscape. So many different shades of green he used, so many times touched the brush of the master of this canvas!
For his diligent work on it, the painting "Summer" received due attention and is now in the homeland of impressionism – in the city of inexhaustible romance – Paris.





(
2
votes, average:
2.50
out of 5)
Description of the painting by Konstantin Korovin "Summer"