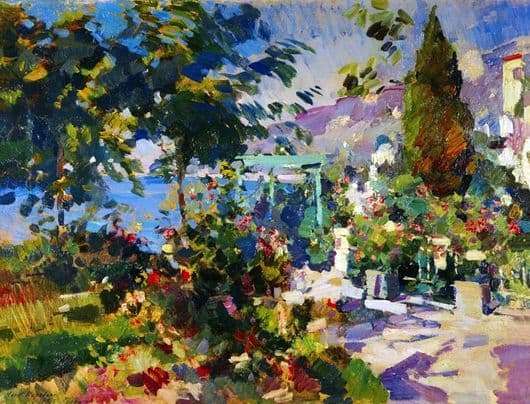 Korovin Konstantin Alekseevich – Russian impressionist painter. His painting "Gurzuf" belongs to the so-called "Crimean" period of creativity. In Gurzuf, Korovin had a dacha, where he loved to relax and paint. There are several paintings with the same name – "Gurzuf".
One of them was created in 1917. Here the artist depicted the lush and vibrant nature of the southern seaside town. This canvas is literally stunned by the abundance of colors and variegation. This is especially surprising if you remember at what difficult time for the country this picture was painted. But the artist did not change his artistic principles in favor of the requirements of the era.
From the first glance at the picture, you can find out the characteristic cow style of the image: wide, bright strokes, which are slightly rippled in the eyes. Therefore, it is better to look at the canvas from a certain distance. Only then can it truly be seen and appreciated.
In the painting "Gurzuf" composition is built diagonally. In the lower left, we see a multi-color lawn on which two young trees grow. The crowns are depicted a little carelessly, it seems that the leaves are about to fly off, caught up in gusts of the southern wind. Thin tree trunks are directed upwards, adding to the picture of lightness and movement. The same aspiration upwards repeats the cone-shaped tree growing on the other side of the path paved with light stone.
These trees in the foreground of the picture seem to limit the canvas on the sides, giving the composition a kind of intimacy and completeness. From the right edge to the center is a path, as if sun-drenched. It rests on a bright turquoise arch, beyond which you can see the sapphire surface of the sea. Parallel to the diagonal path there is a line of mountain ranges, which the artist painted in a mysterious purple hue.
Despite the presence in the picture of the perspectives and different plans, in general, Korovin's canvas is a bit like a bright and colorful theatrical scenery. But this theatricality does not prevent you from enjoying the richness and vividness of the colors with which this masterpiece of visual art is permeated.